RYAN CAPES WORLD RECORD ASSAULT
All photographs property of Johnny Airtime
On October 29, 2005, Ryan Capes went after the longest motorcycle jump in history, attempting to become the only human being to jump a motorcycle farther than 300 feet. Meet Ryan Capes.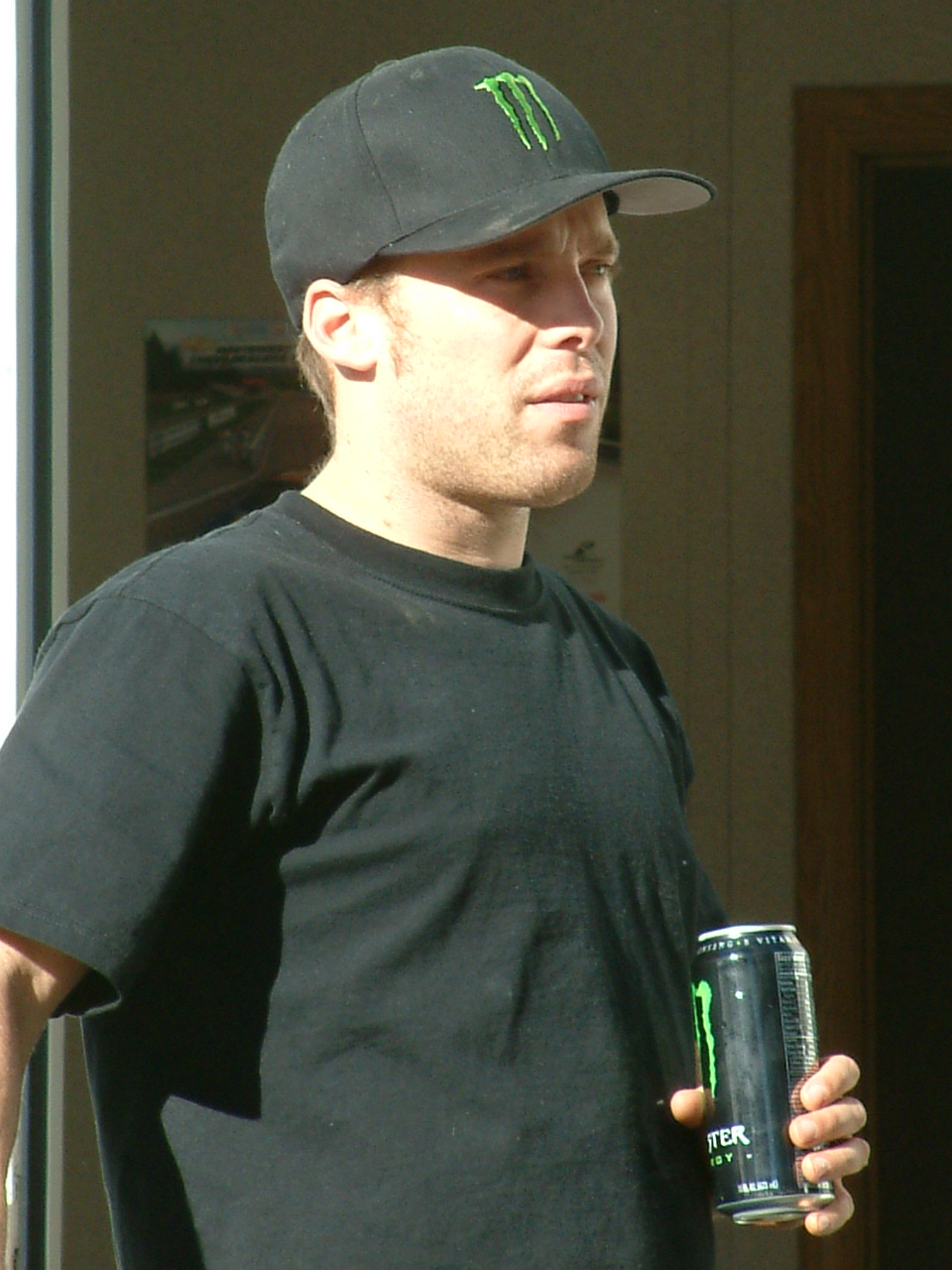 Standing outside the offices of Pacific Raceways, Ryan is thinking hard about what he has to do to secure insurance and get the dirt work done. At this point some of us wondered if the event would happen at all. Everything was handled. Capes and his key people like Deena were organized, businesslike and ready ahead of time.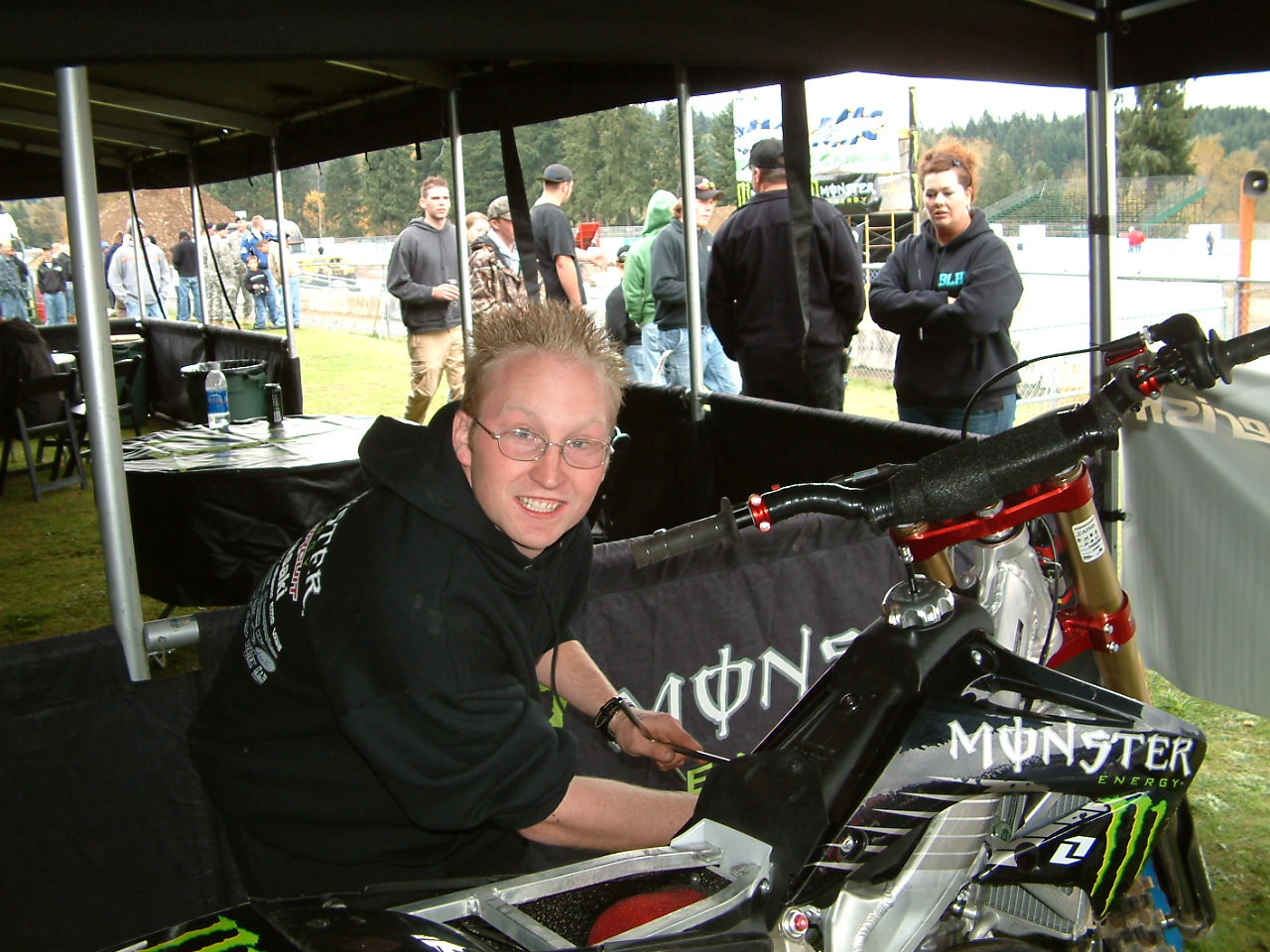 Ryan's mechanic, Zach Briggs. He wrenches for Ride Motorsports in Woodenville, Washington. Good man.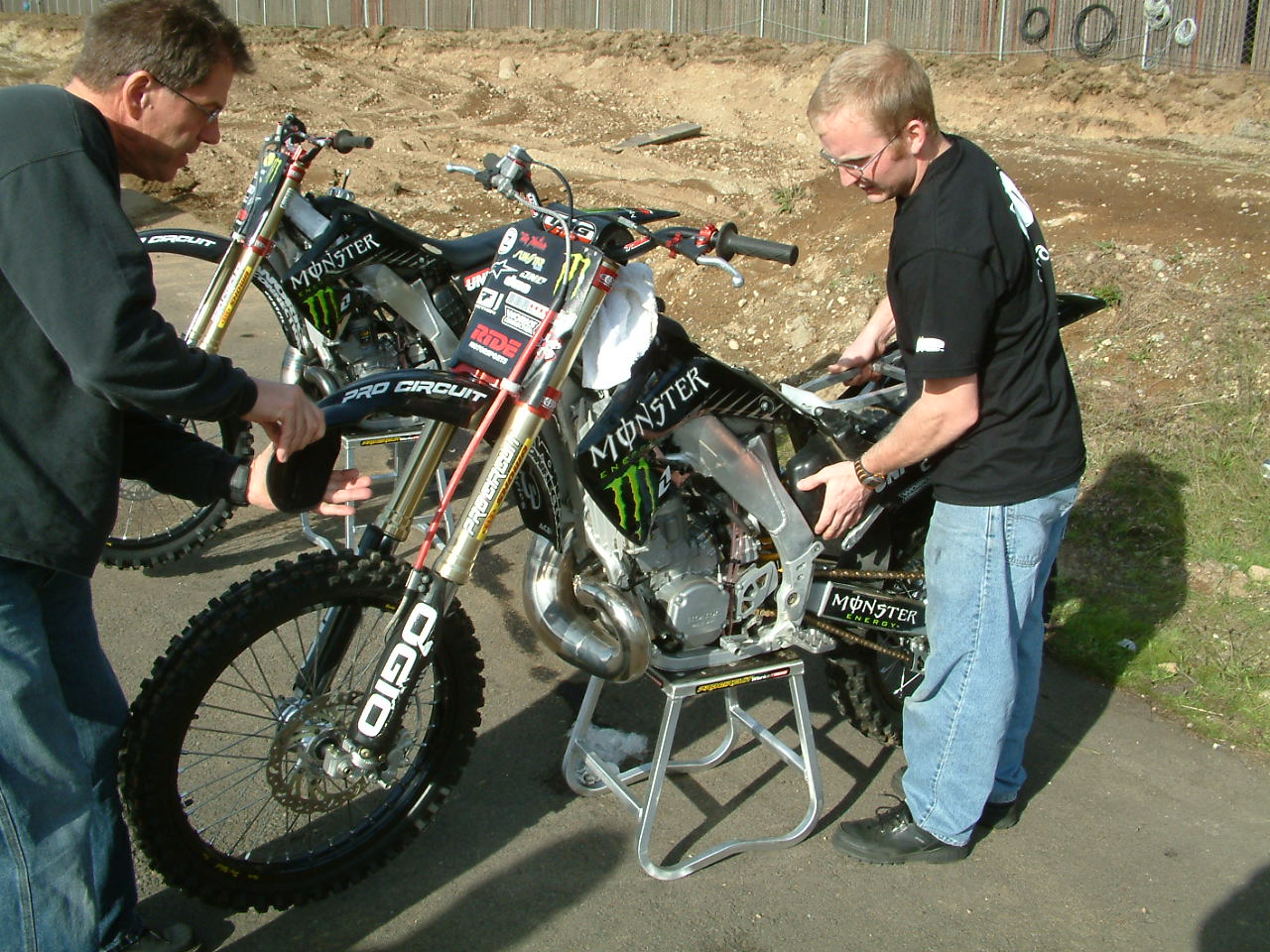 Announcer Jeff: "Unbreakable fender? We'll see about that. I broke a Preston Petty fender once. Watch your eyes." Zach: "We saved a couple of pounds when we got rid of that heavy seat. I think we can save a few more pounds if we remove this air boot and subframe."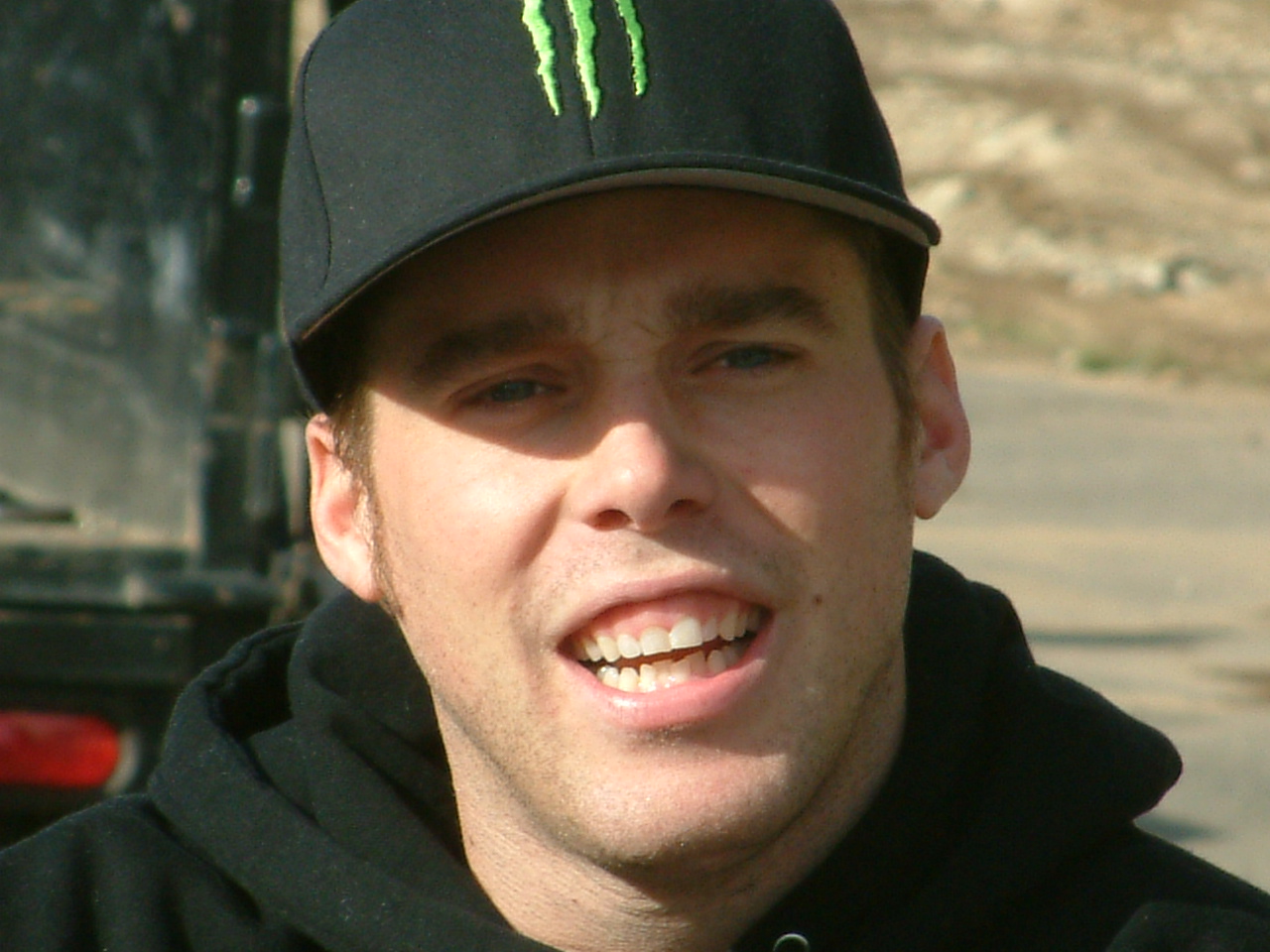 Capes: "Who's Preston Petty? I've got five bucks that says you can't break it." Cross-linked polyethylene is tough stuff.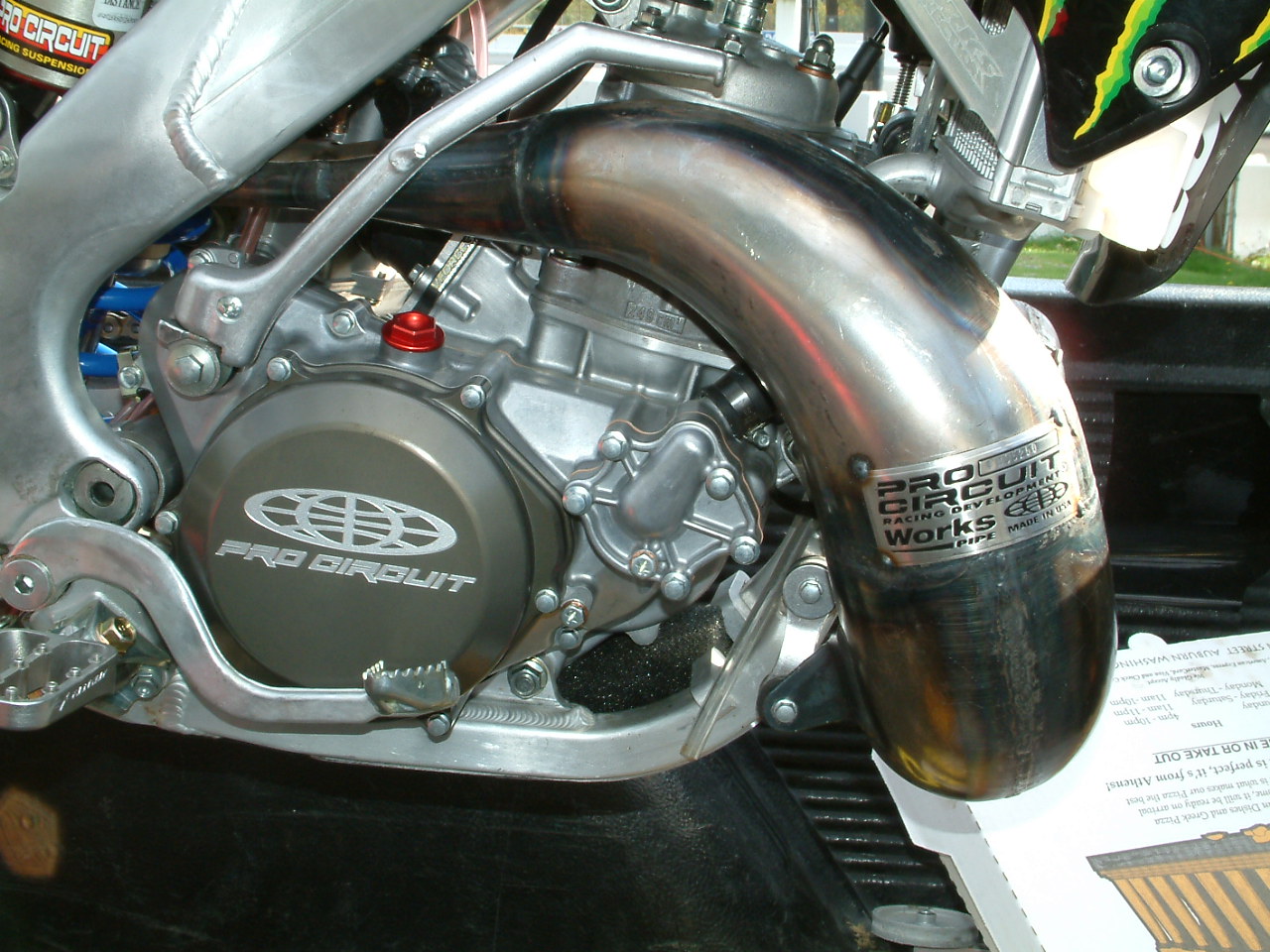 Capes' engine is Pro Circuited out.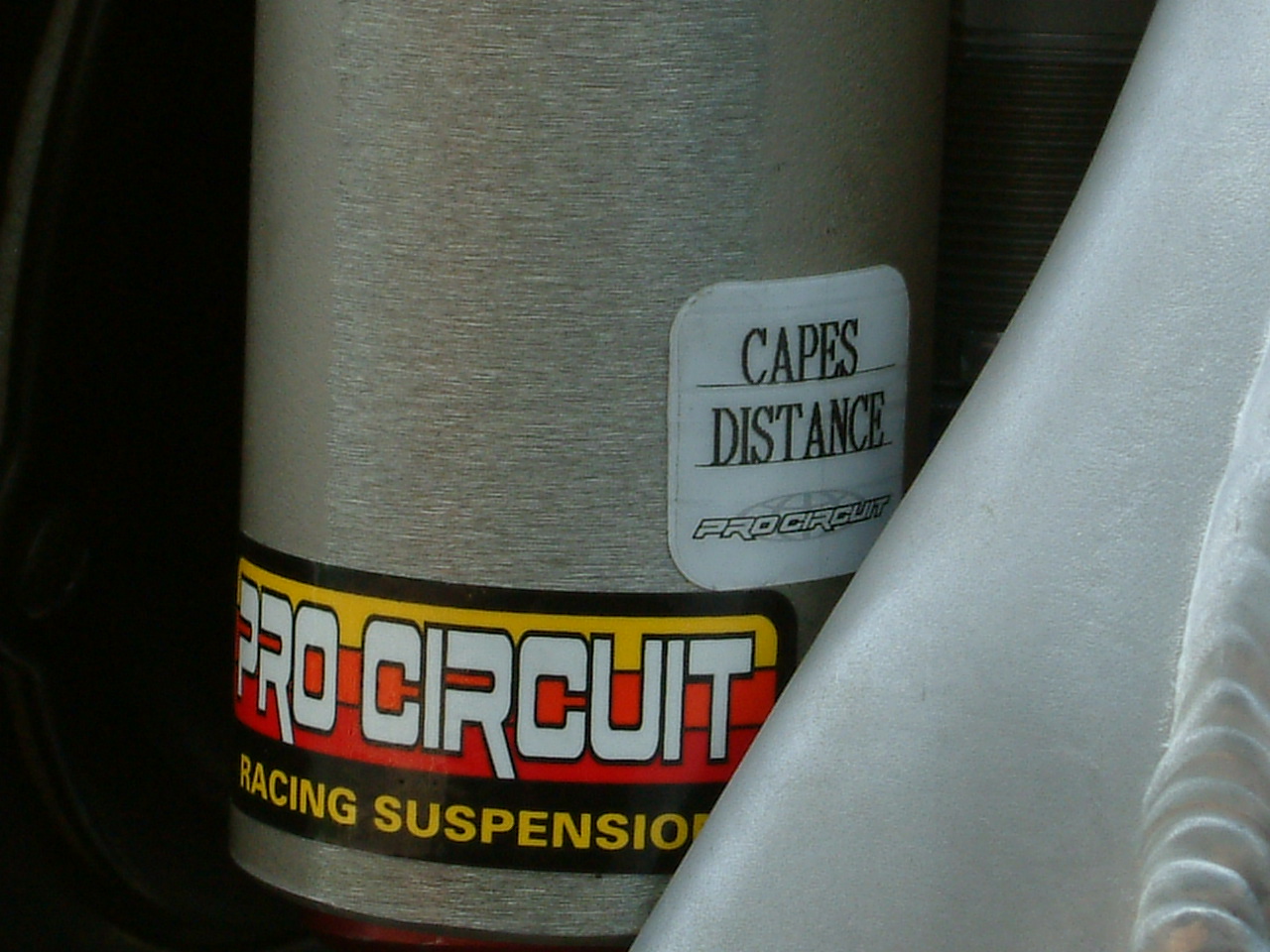 So is the rear shock...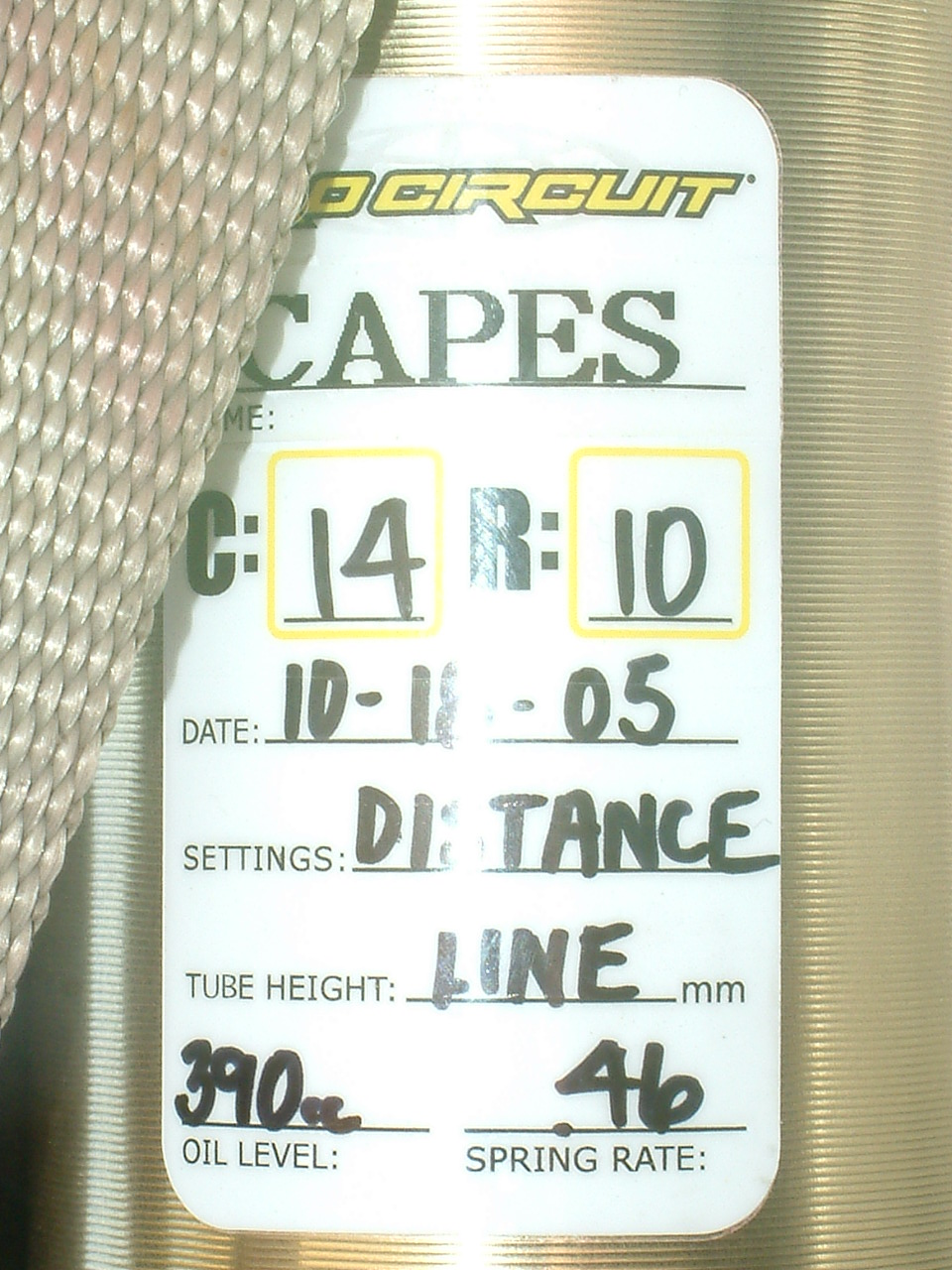 ...and the forks.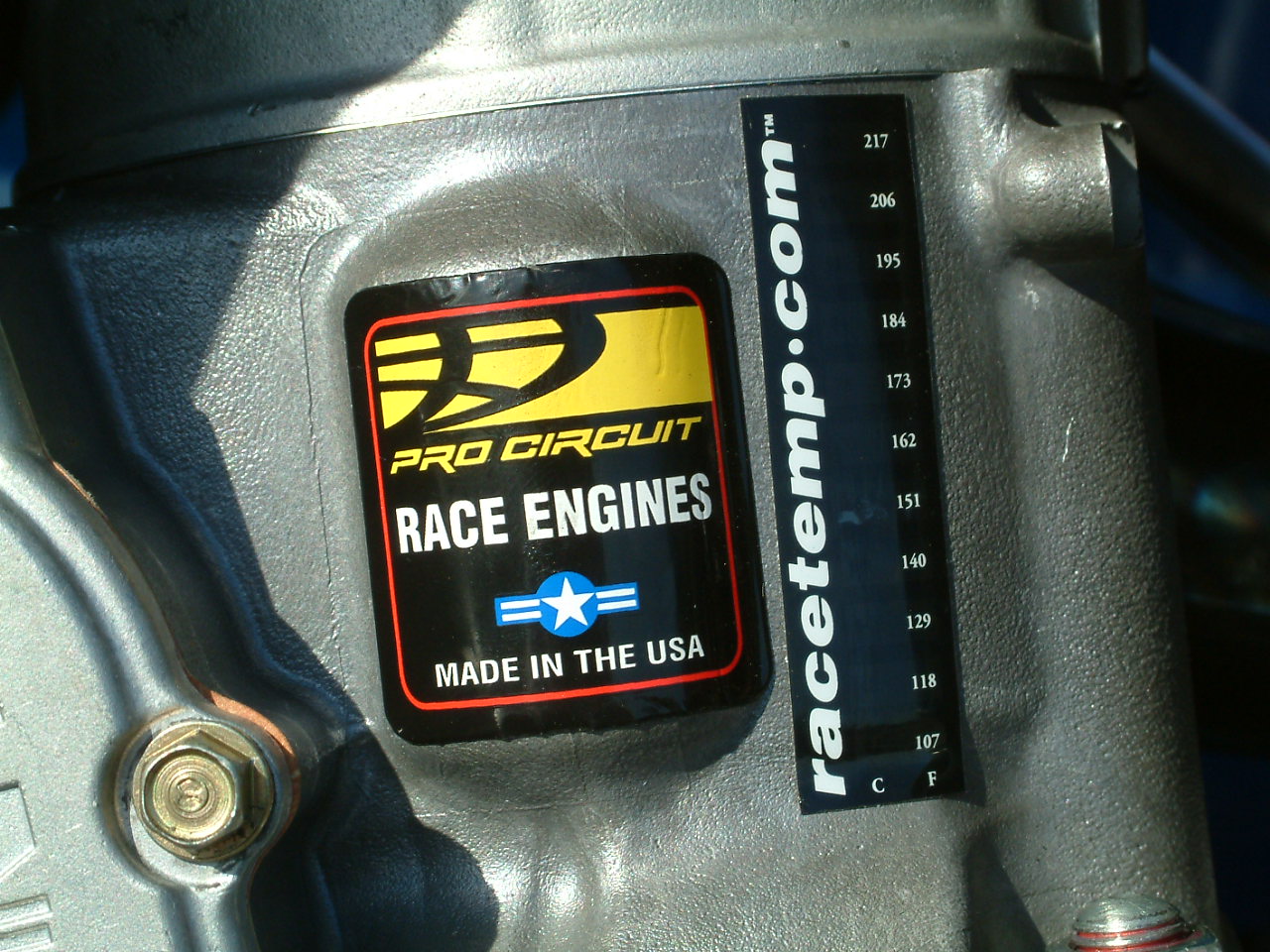 There's a sticker on the cylinder that shows the temperature.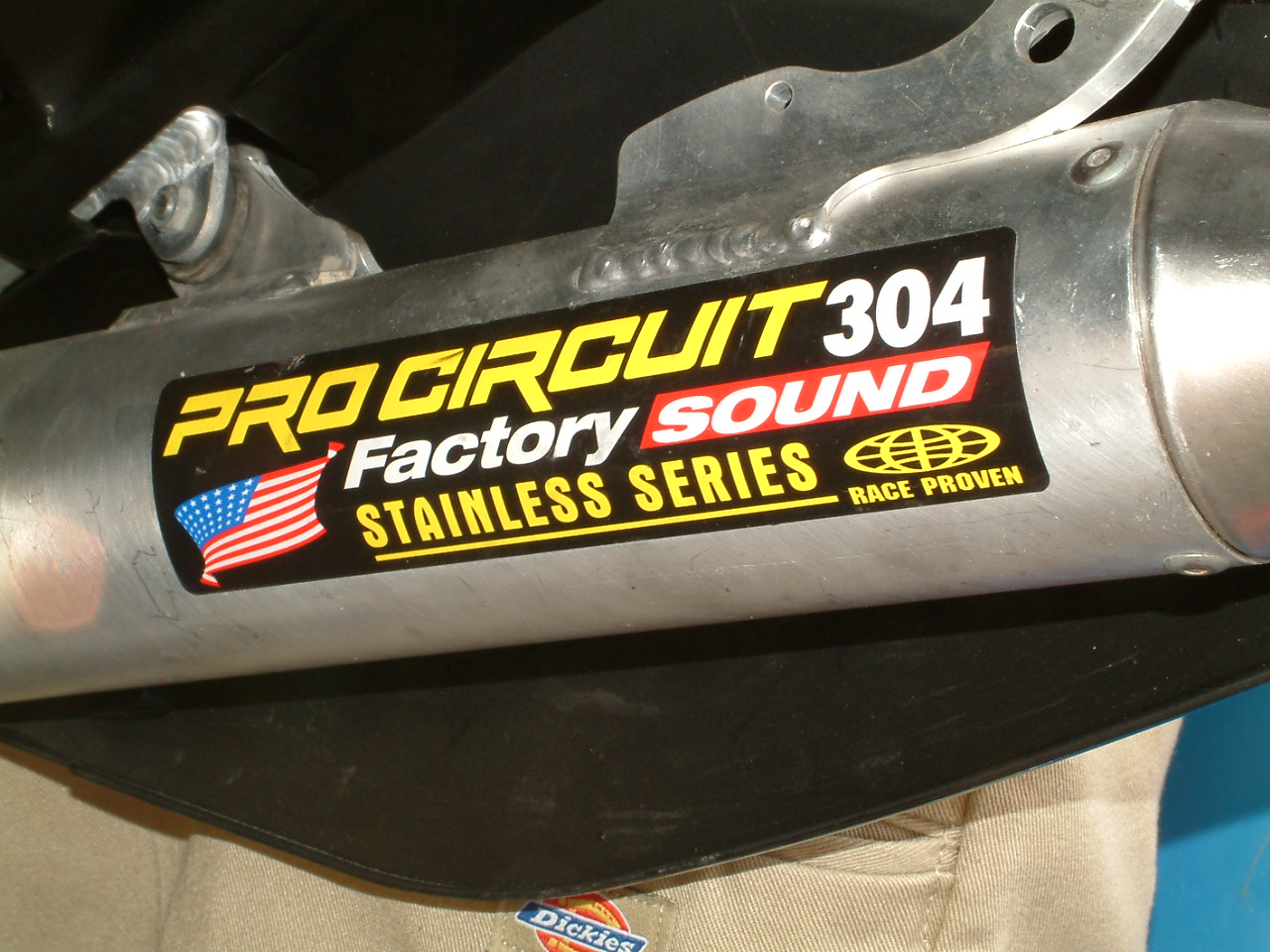 The silencer is obviously a PC 304 Factory Sound Stainless Series. It's race proven. But is it jump proven? Capes offers his services.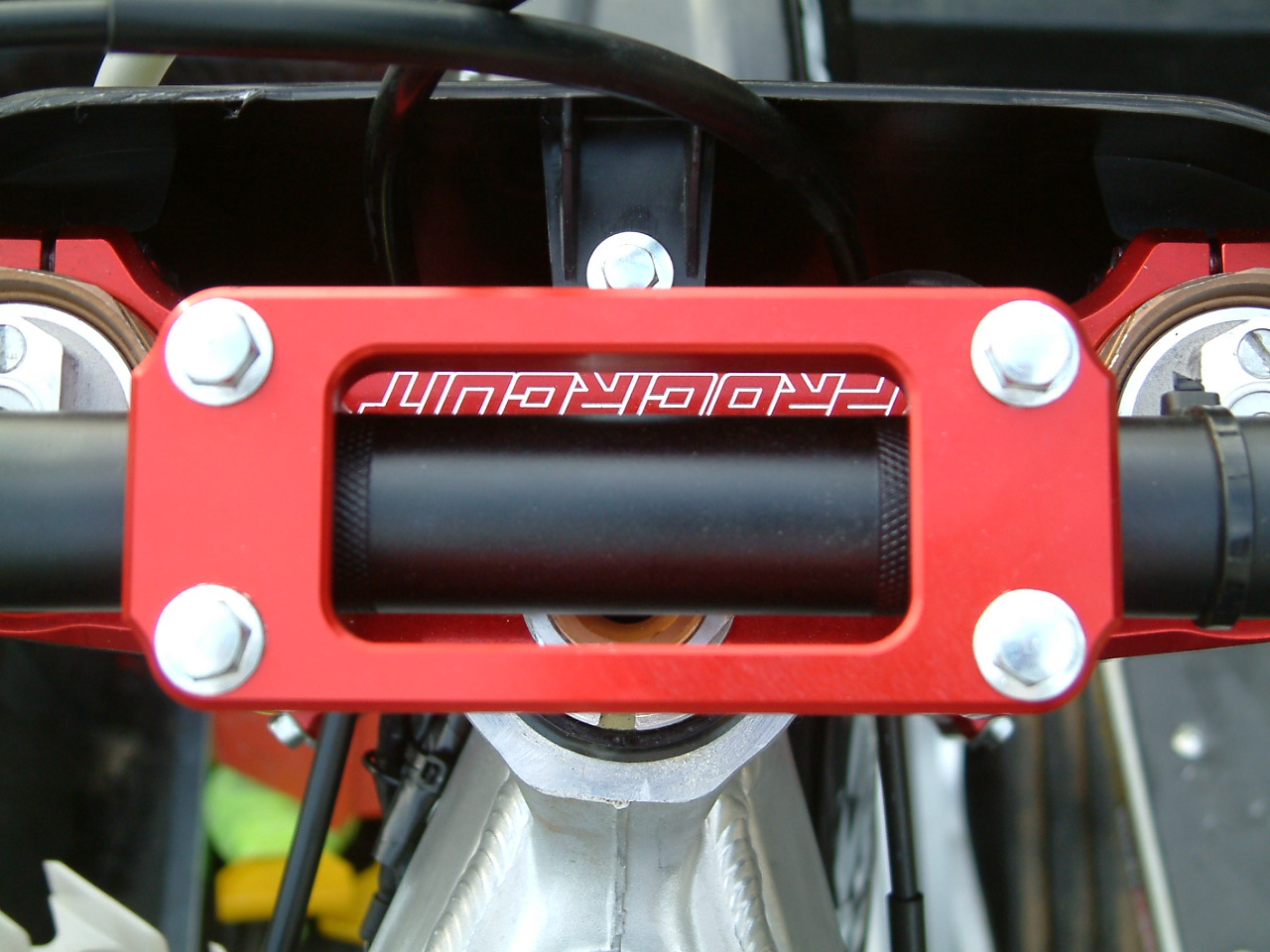 Triple clamps and handlebar perches by Pro Circuit.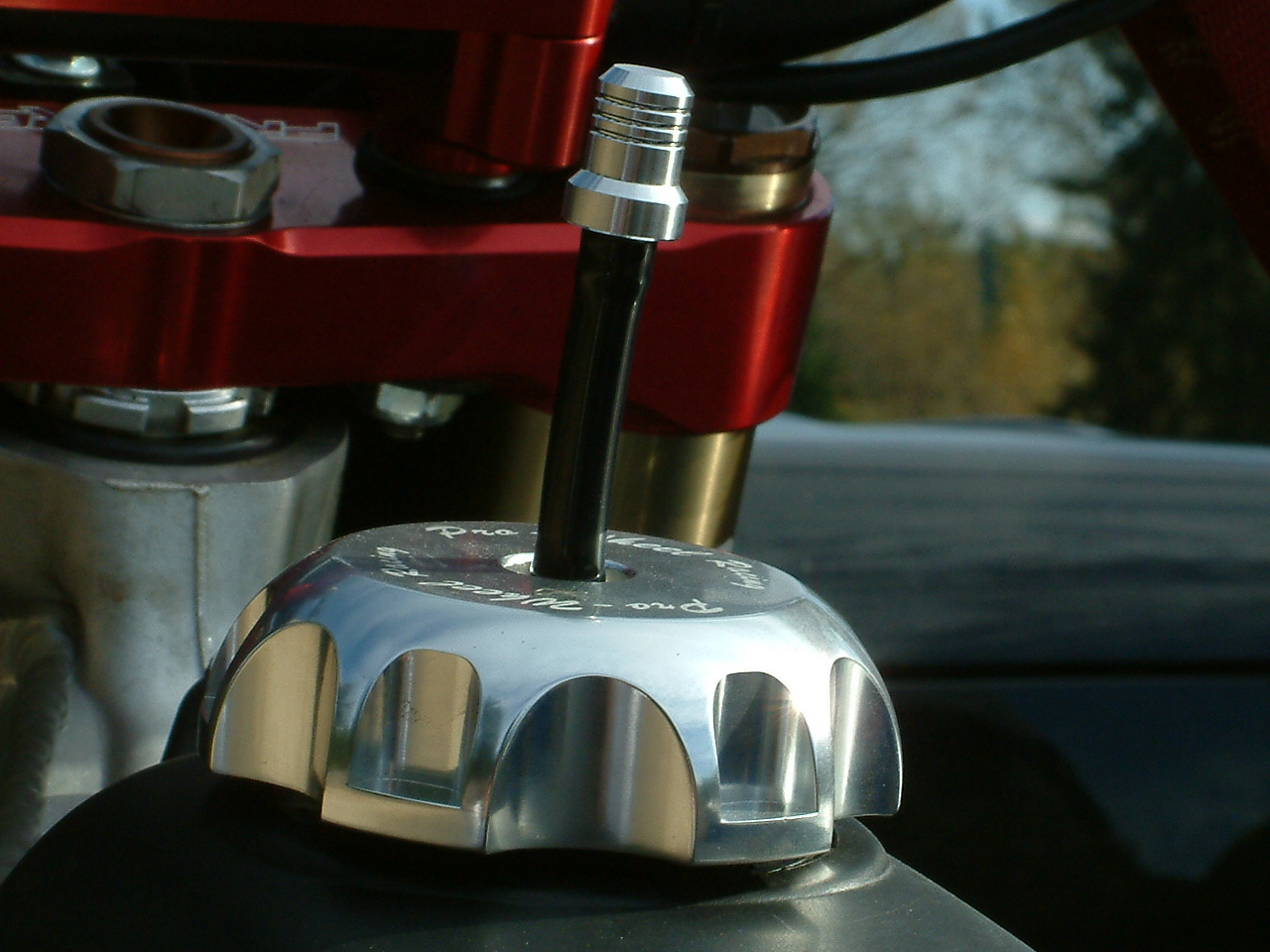 Solid billet gas cap and vent by Pro-Wheel Racing. Feels good in the hand. One can never have too much solid billet aluminum, titanium, magnesium, chrome moly and carbon fiber.
Capes' footpegs.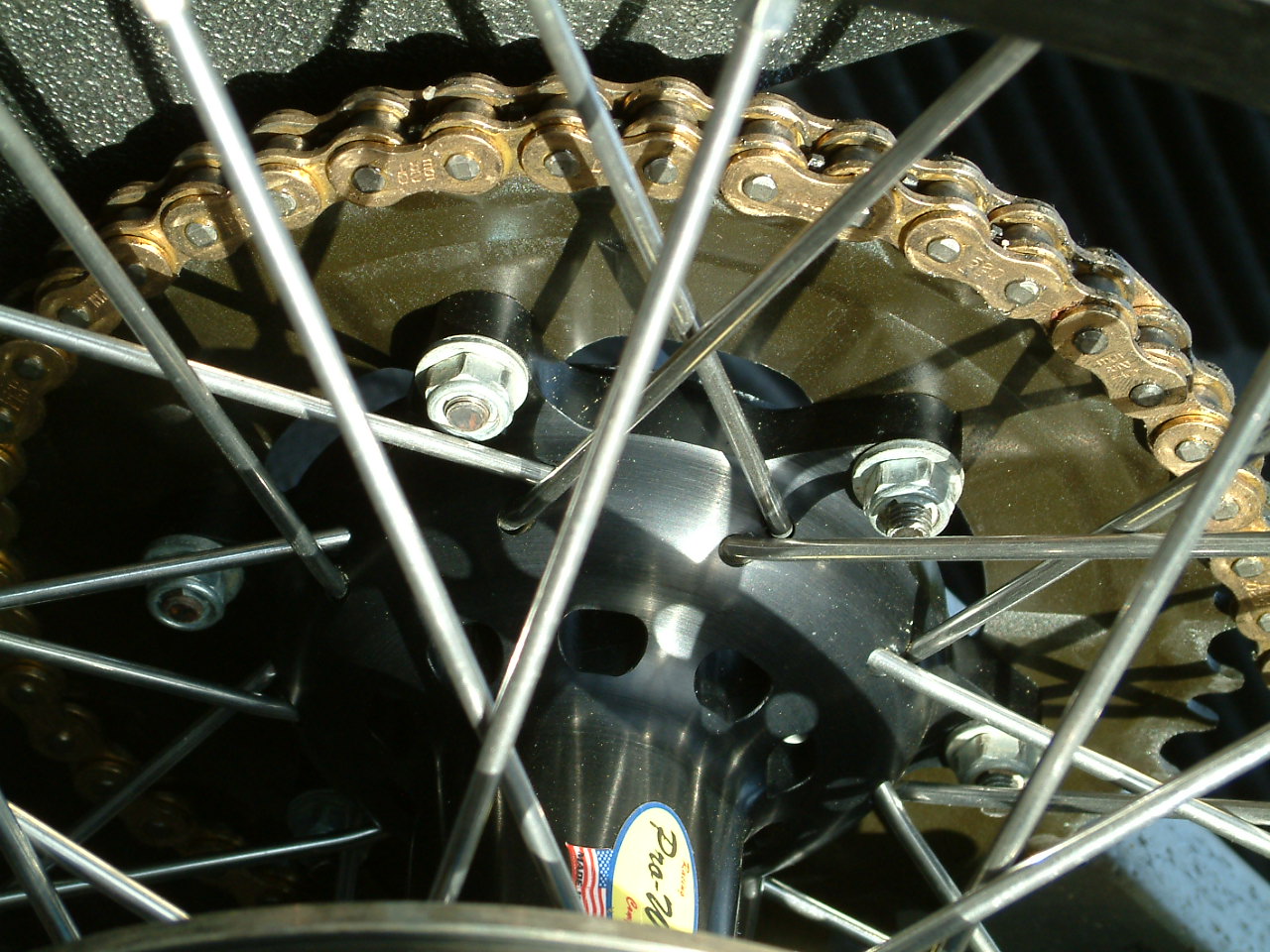 Out back, there's a Pro Wheel rim, solid billet Pro Wheel hub, a stamped steel sprocket and a DID 520 ERT chain. Spokes appear to be 8 gauge.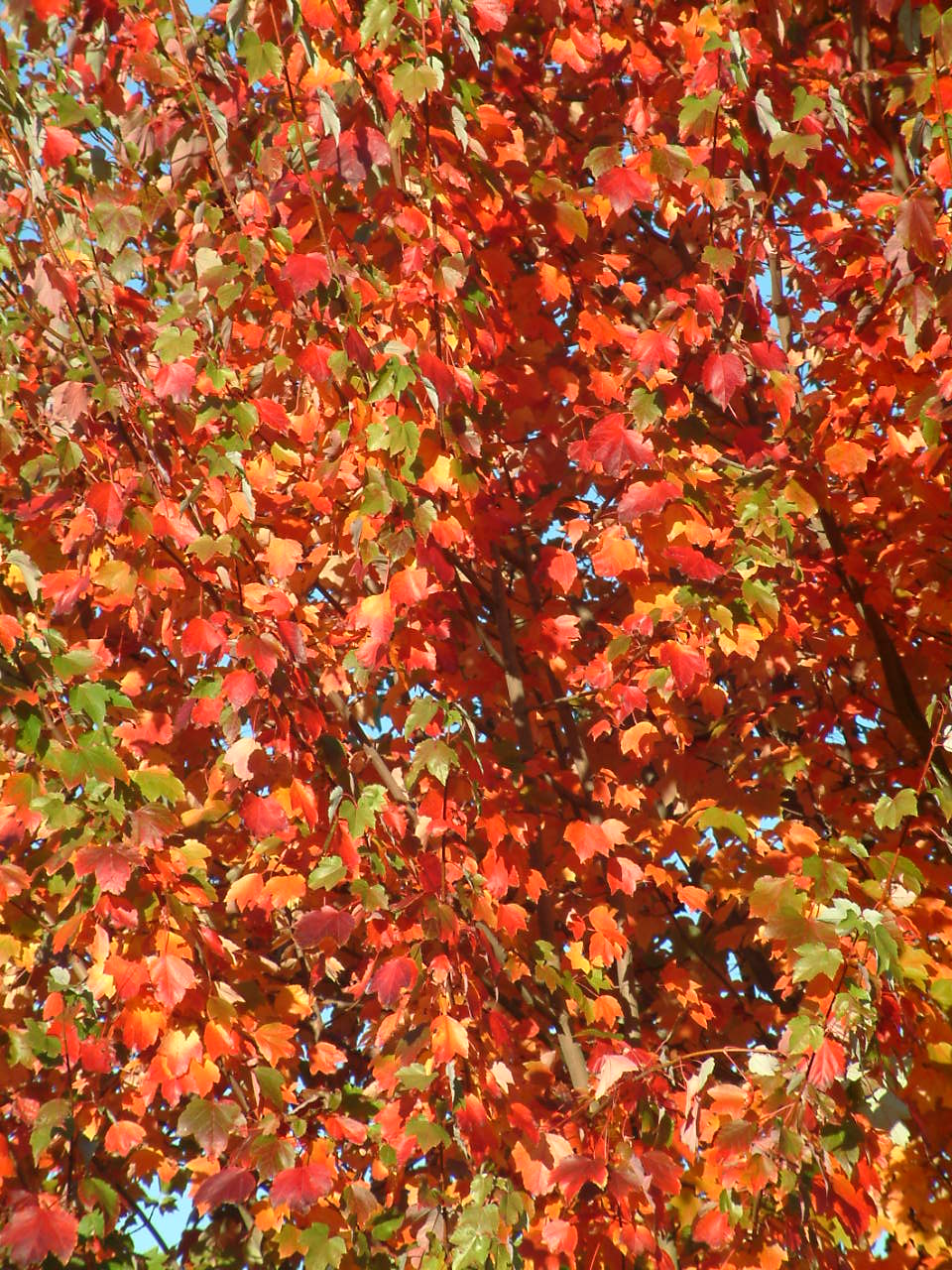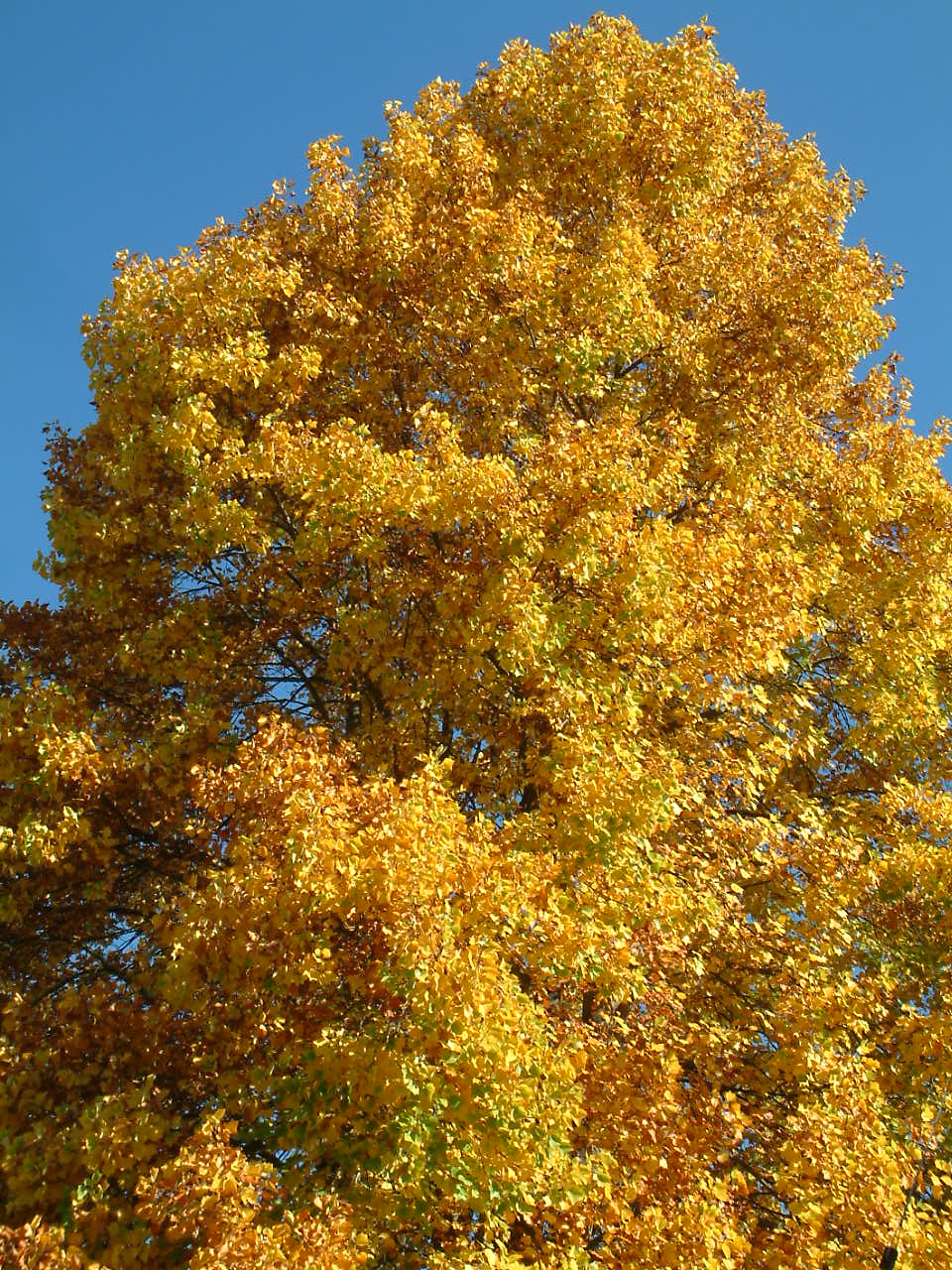 Beautiful leaves changing colors in Capes' back yard.
Ryan Capes' dad. He's a good guy.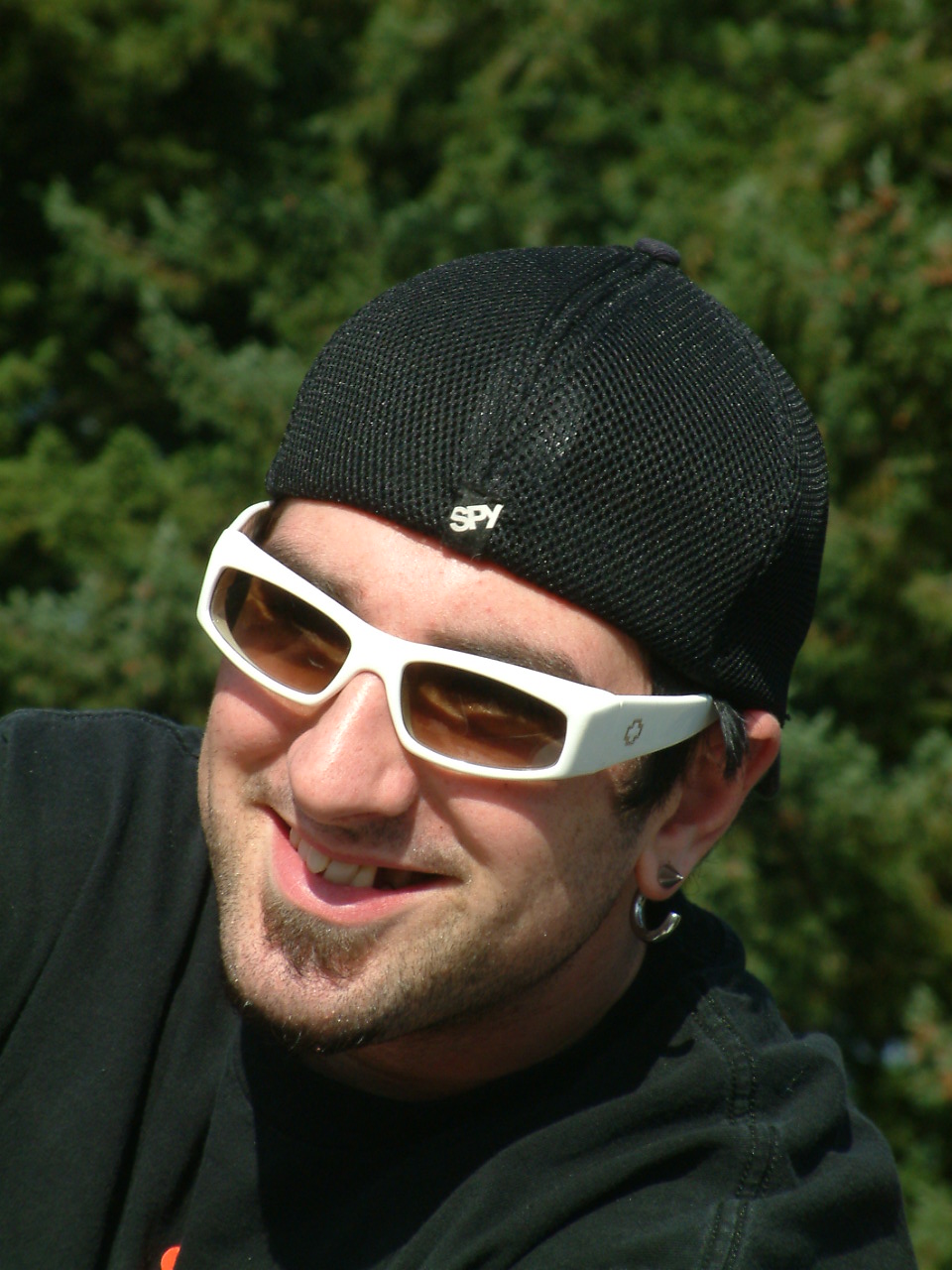 Torin McIntyre.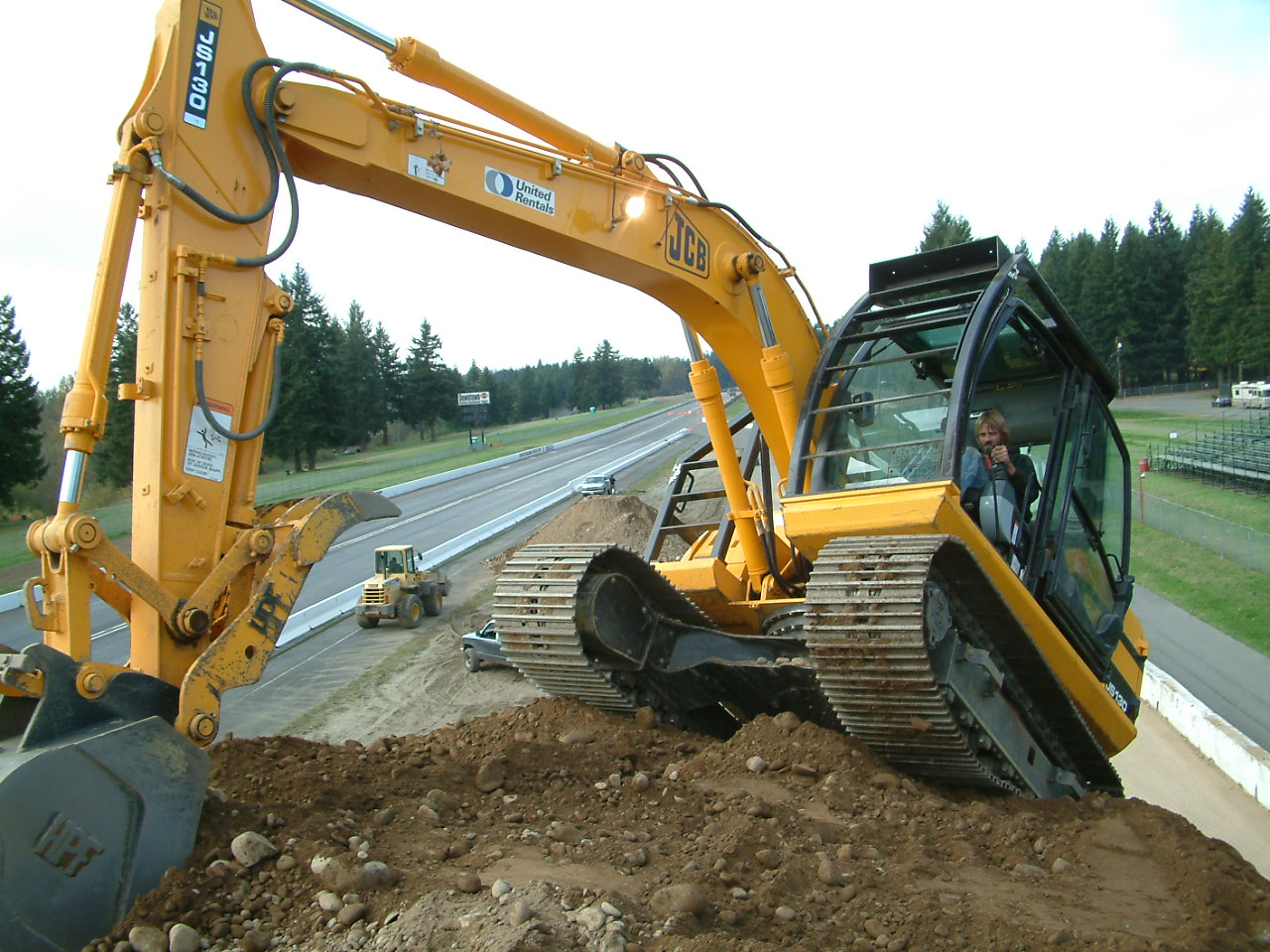 This is one sick pup. His name is Joe Dirt. He worked hard for days on end getting the landing ramp ready, with the help of some other guys.
The look in his eye tells the whole story. While mere mortals would be trembling in their shoes, Joe Dirt eats it up with a grin on his face.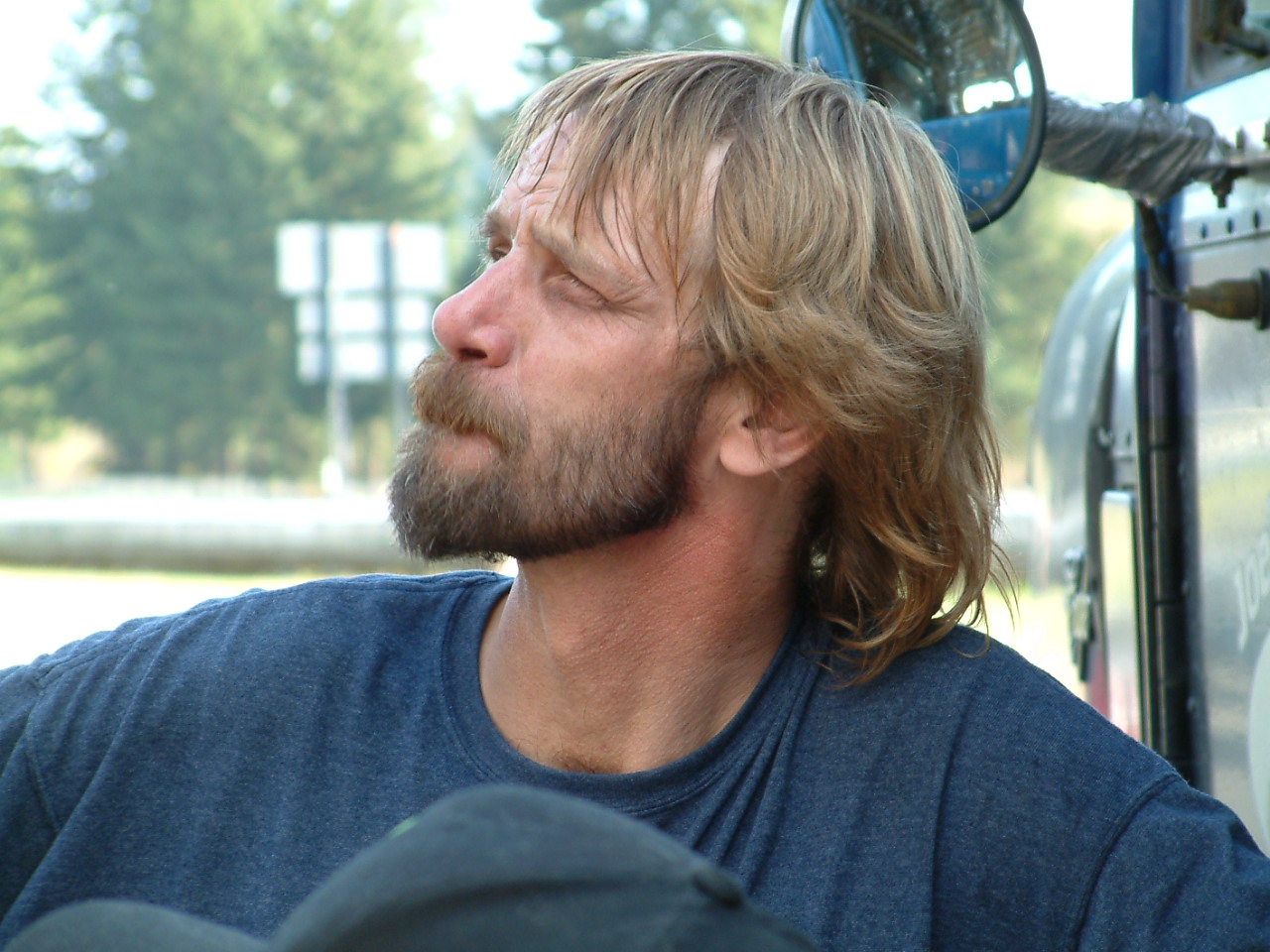 Joe Dirt.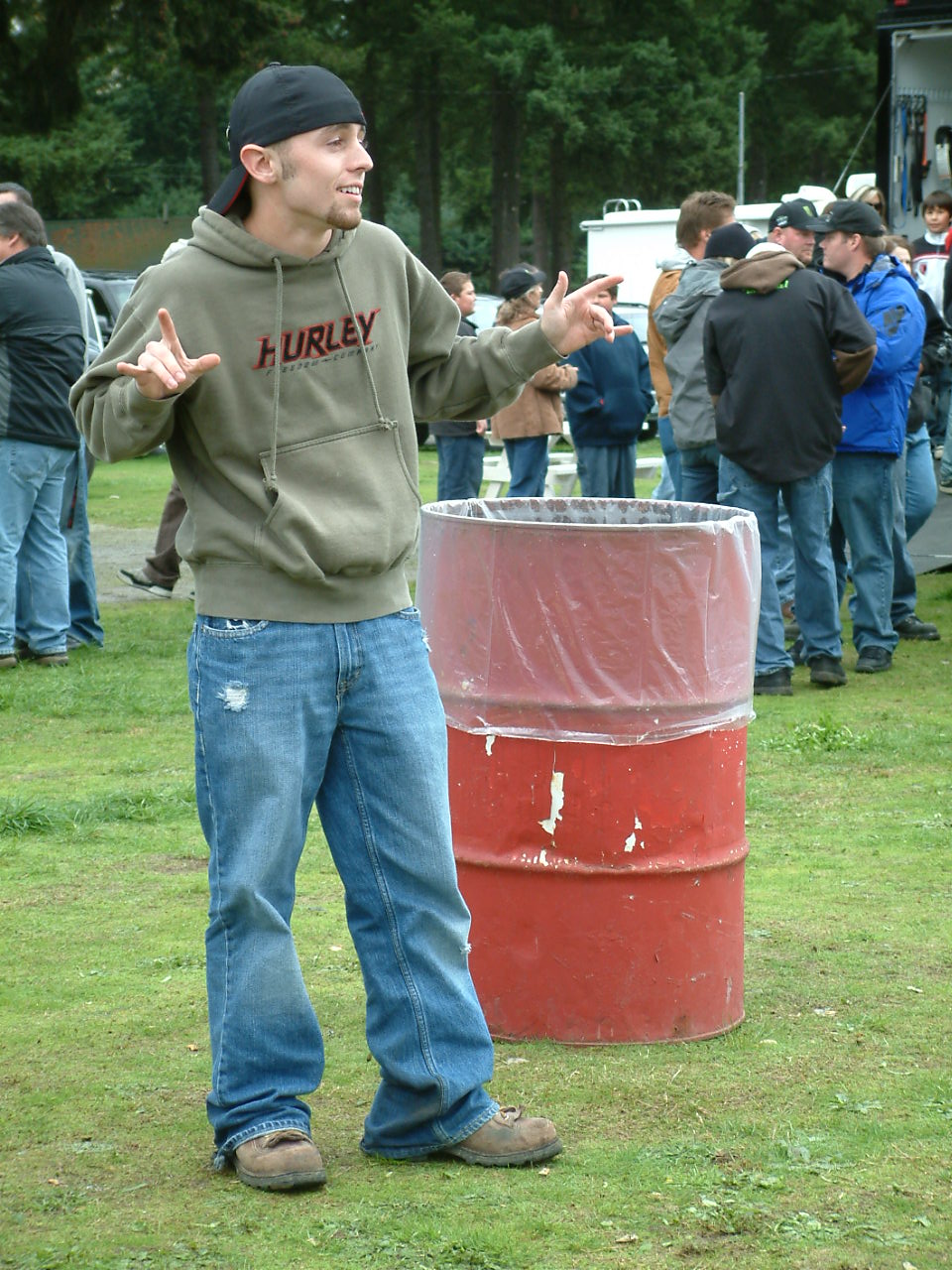 They call this guy Eye Candy, because he's often surrounded by hot, nubile babes. He strikes a funky pose when he knows the camera is on him.
Eye Candy worked hard moving dirt, but he could have done more to bring some of those hot, nubile babes to the event. Capes' crew was dedicated and had a never-say-die attitude. They really believe in Ryan Capes' ability.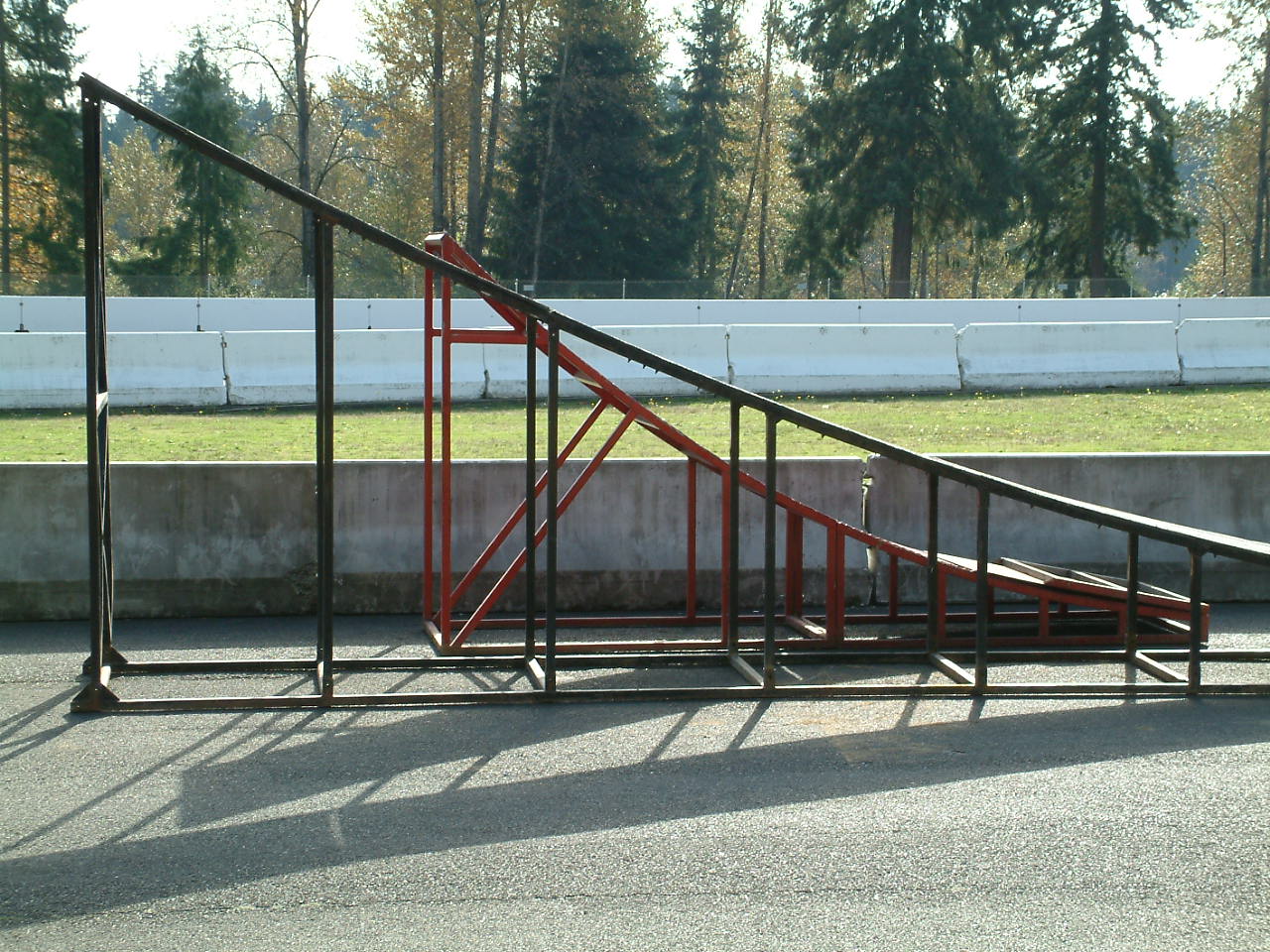 Capes' world record launch ramp.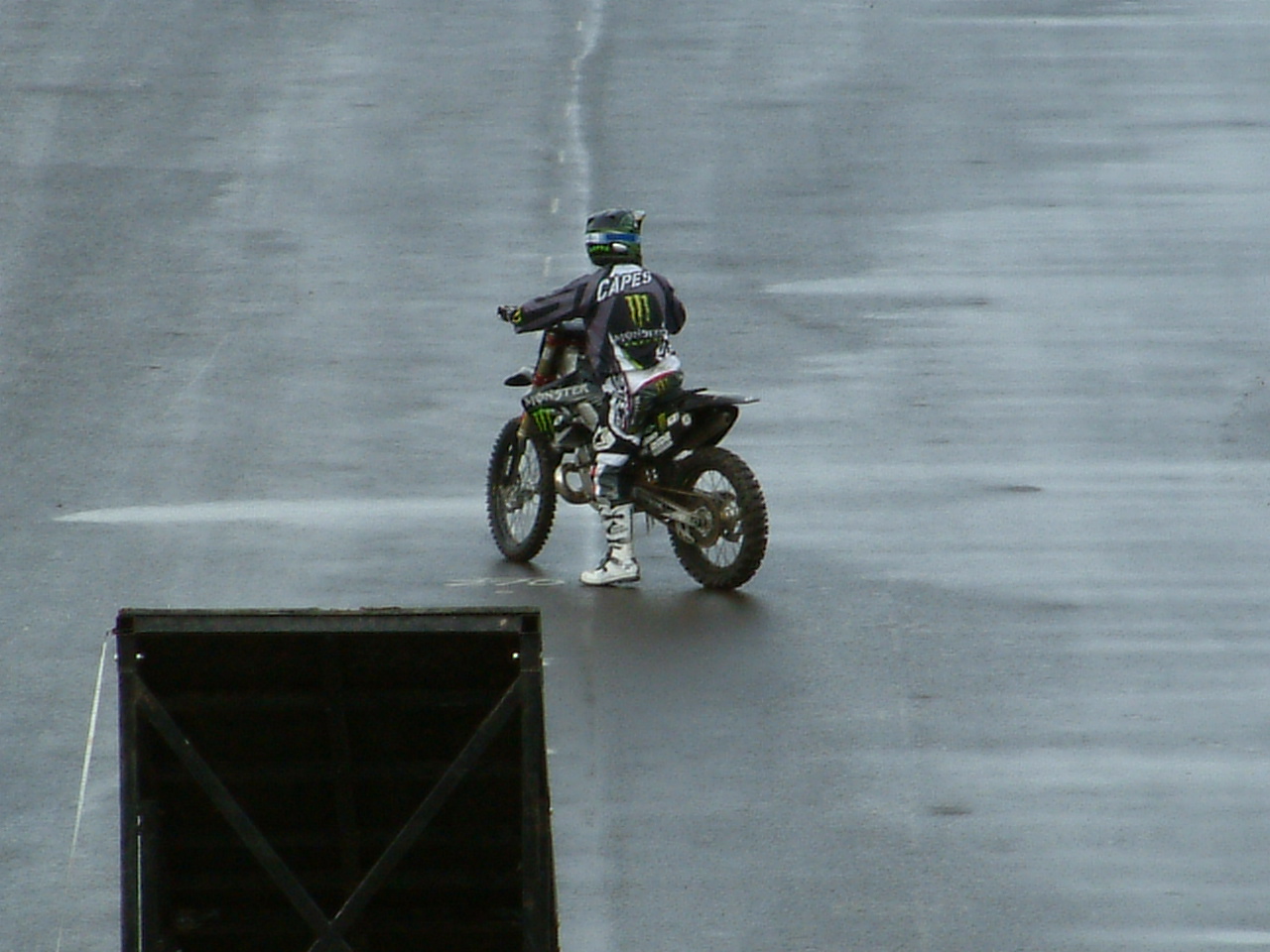 Capes gets ready for another session in wet conditions.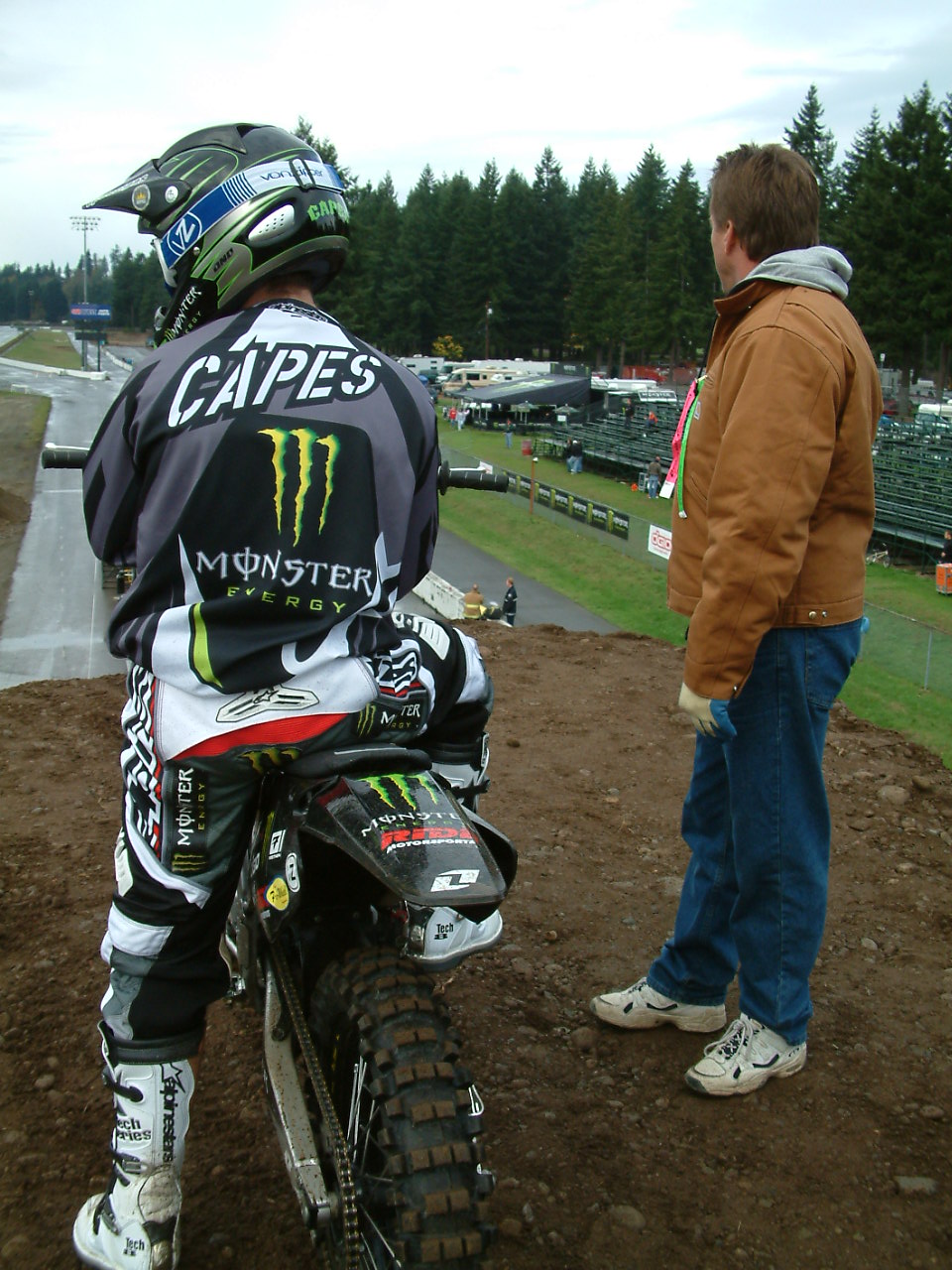 Capes and his dad Greg on the protective apron.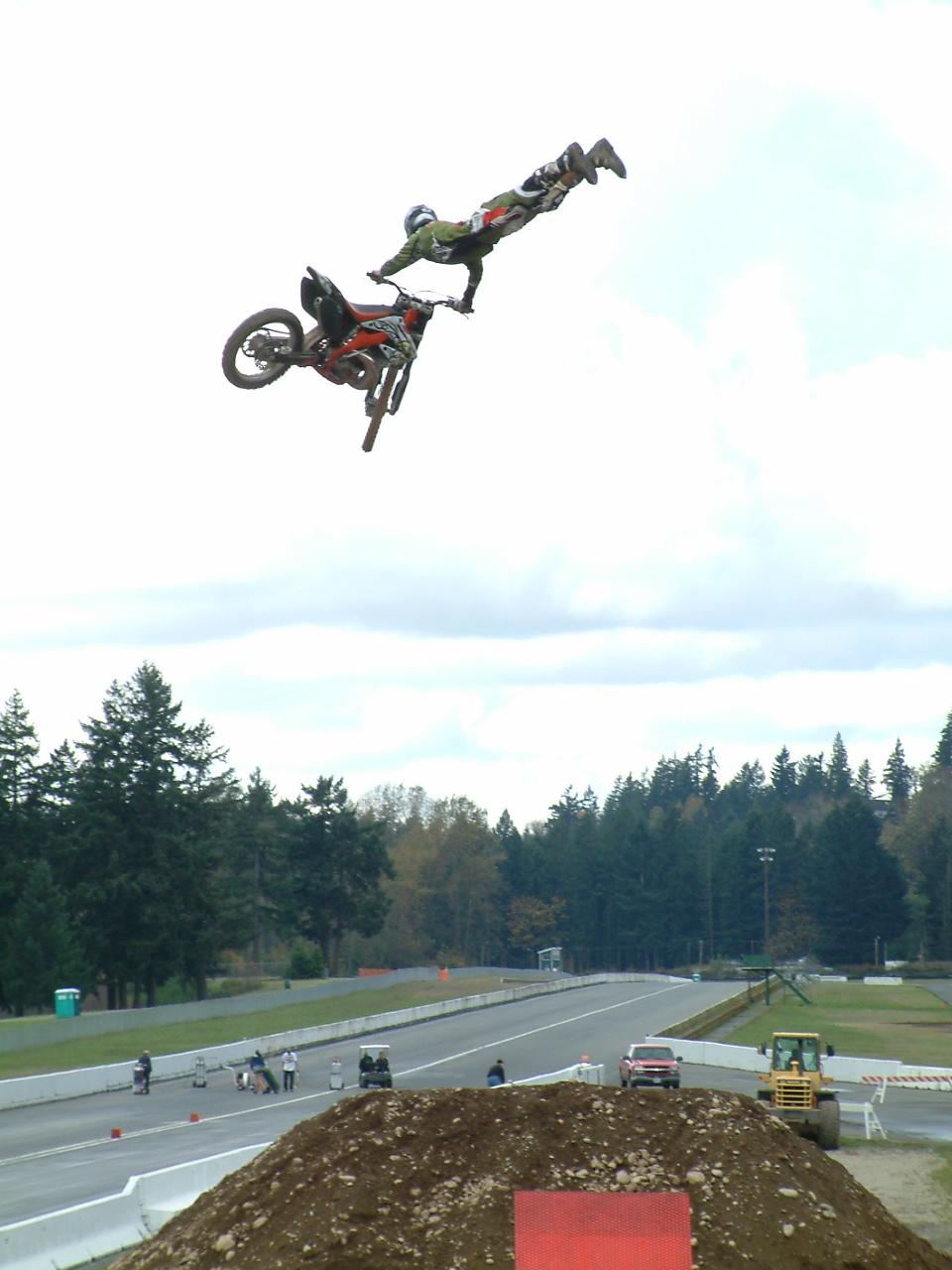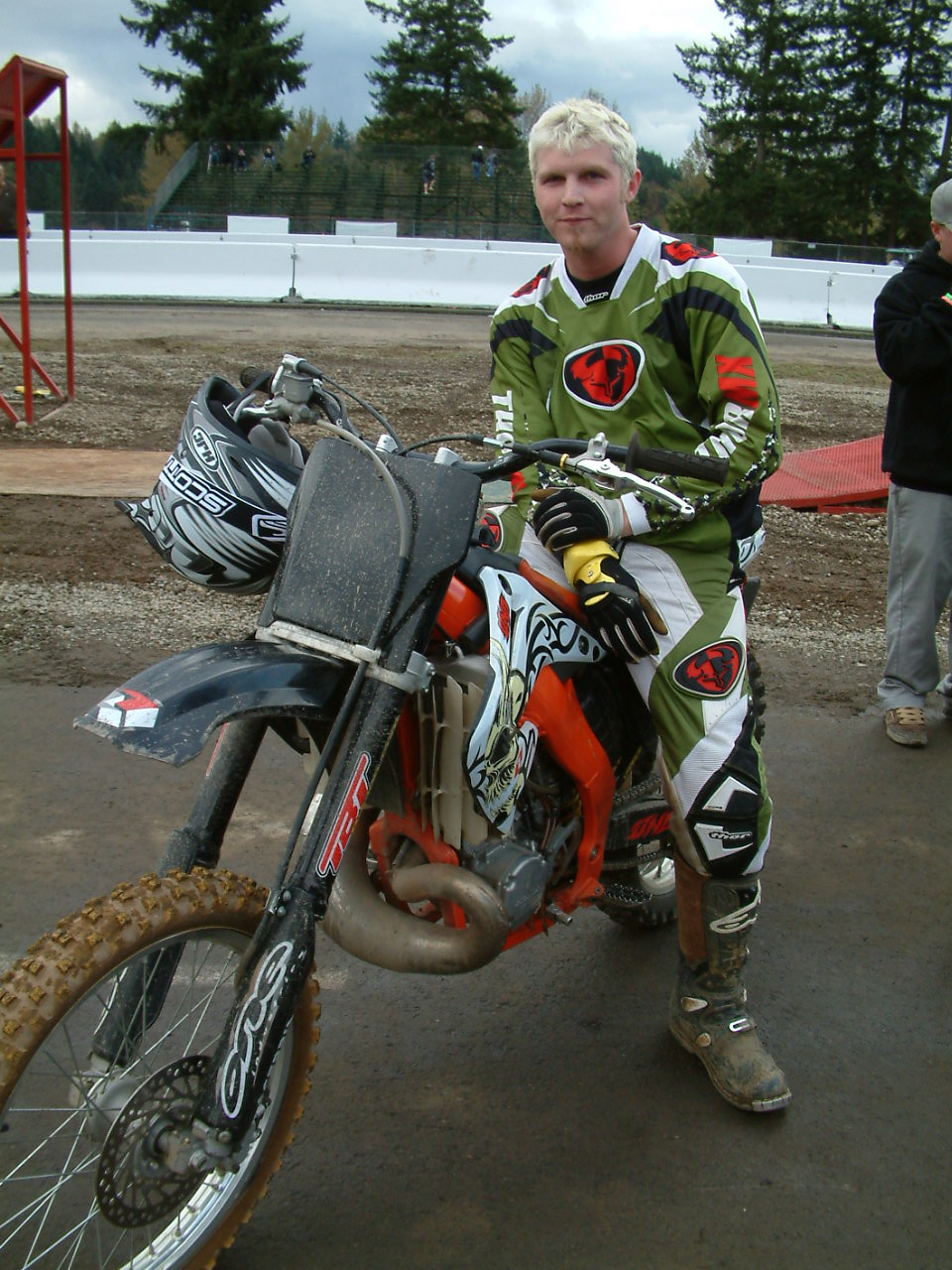 Freestyle demo rocked. Cleve Beelart, from Corvallis, Oregon, demonstrates a 9 o'clock Crack Nac in perfect form.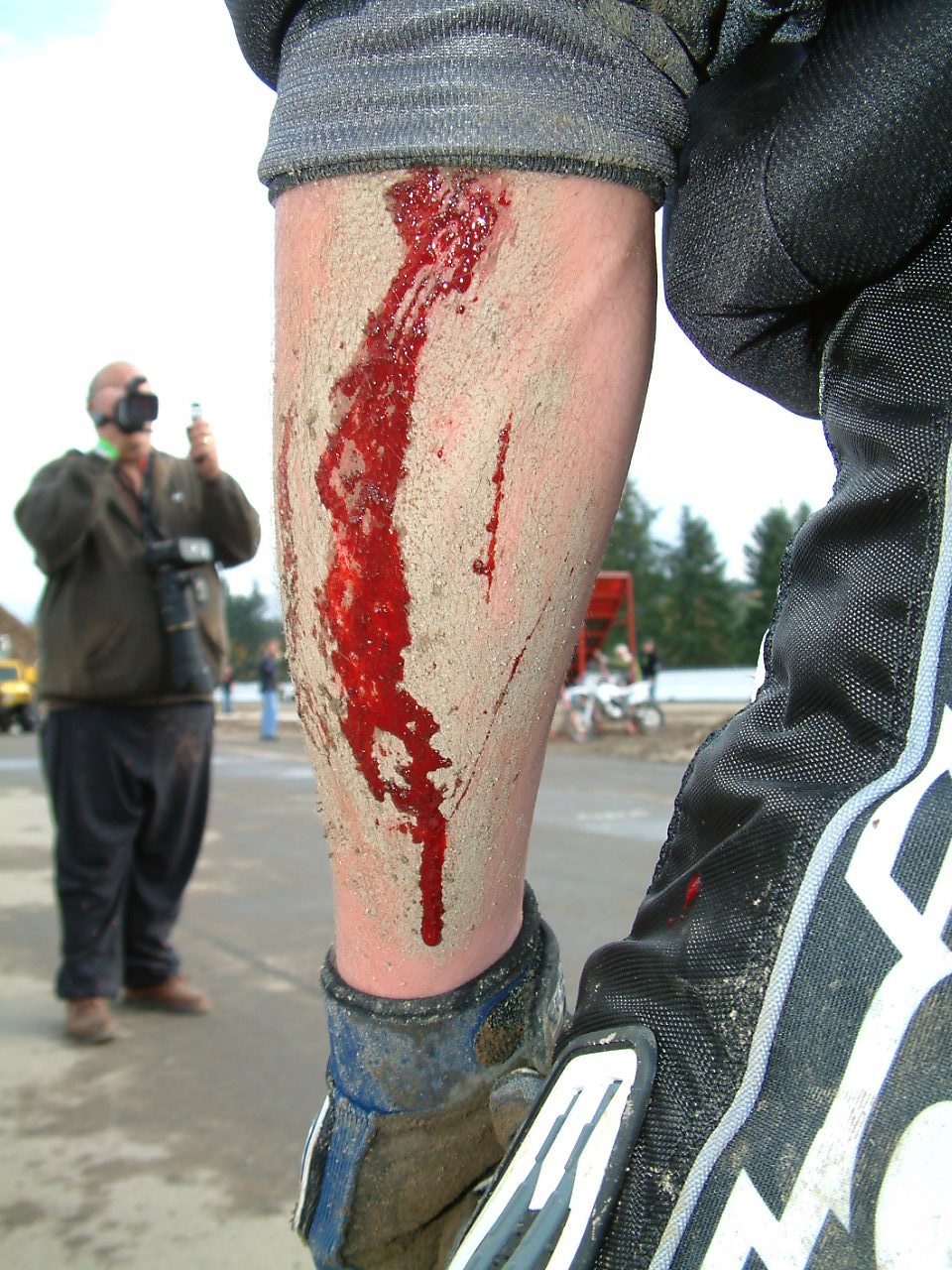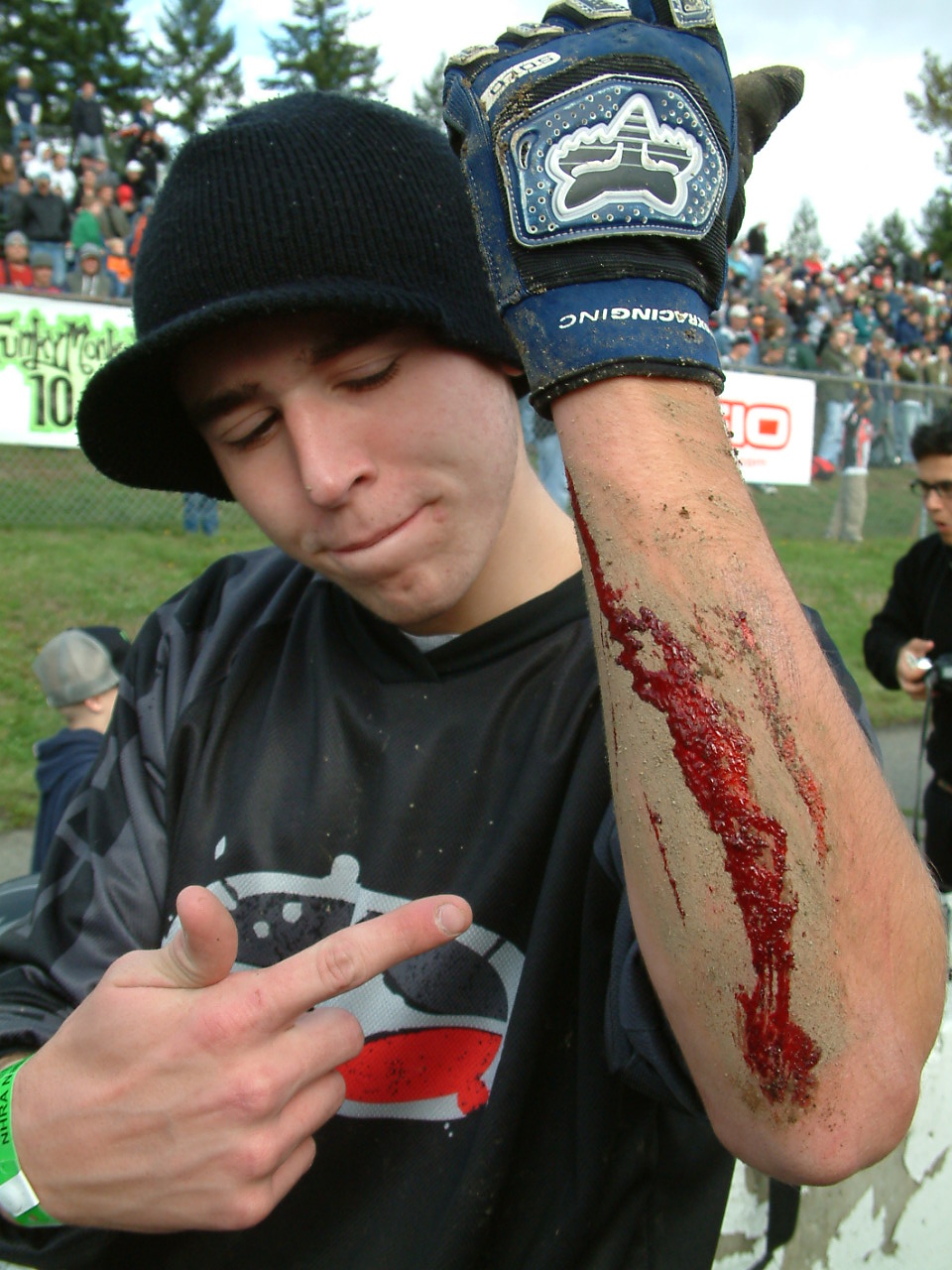 Jake Ness flipped a minimoto to a world record of 57 feet, 6 inches, but lost control at at the bottom of the landing ramp when the bike slid out on the rocky soil. The 90% rock content took its toll on his forearm.
Kyle Coen jumped a MiniMoto 108 feet, 6 inches for a new world record. He did it on Capes' insane distance ramp!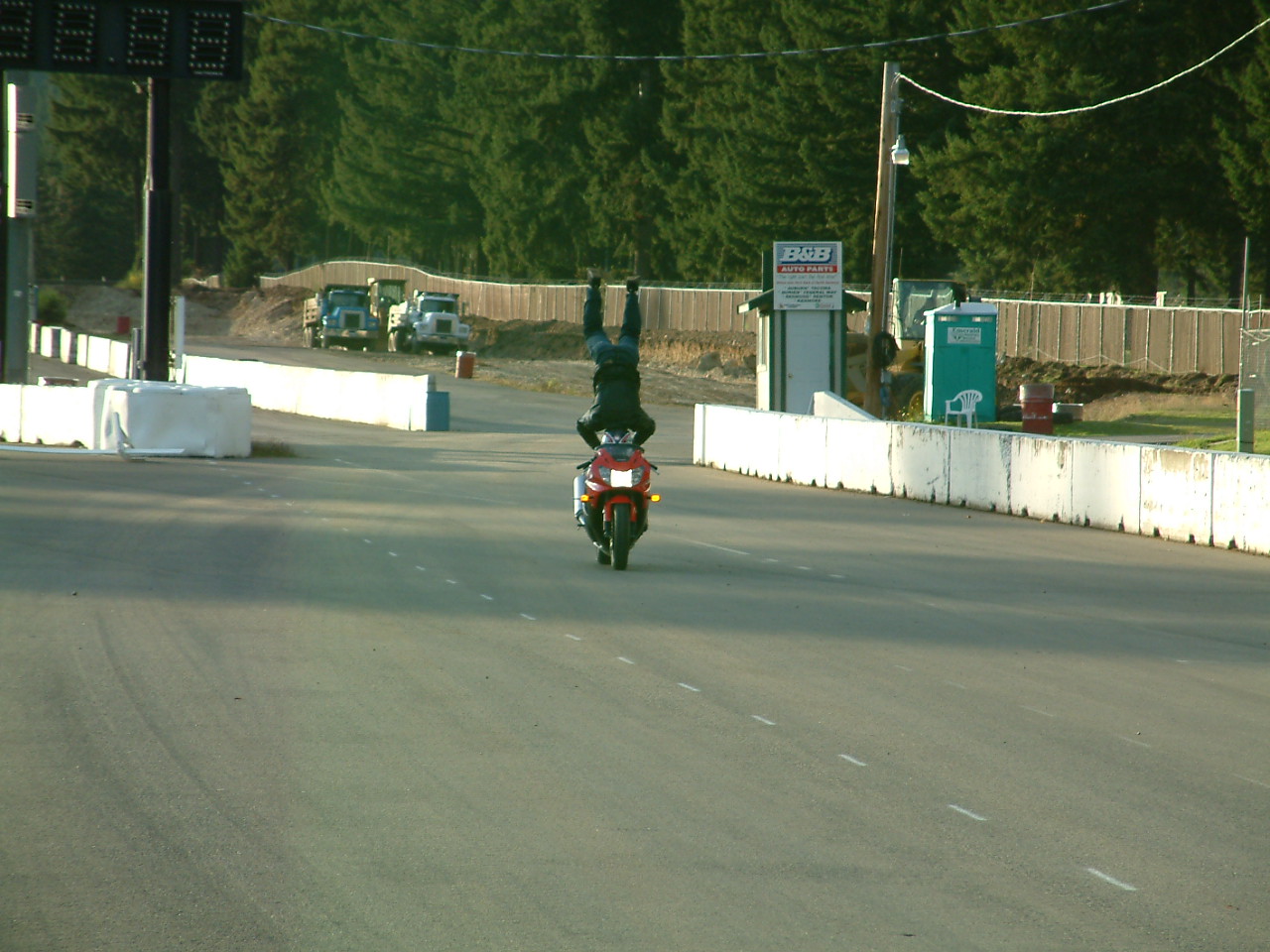 Street bike freestyle demo by Stan. This isn't a Ruler, it looks more like a Framing Square!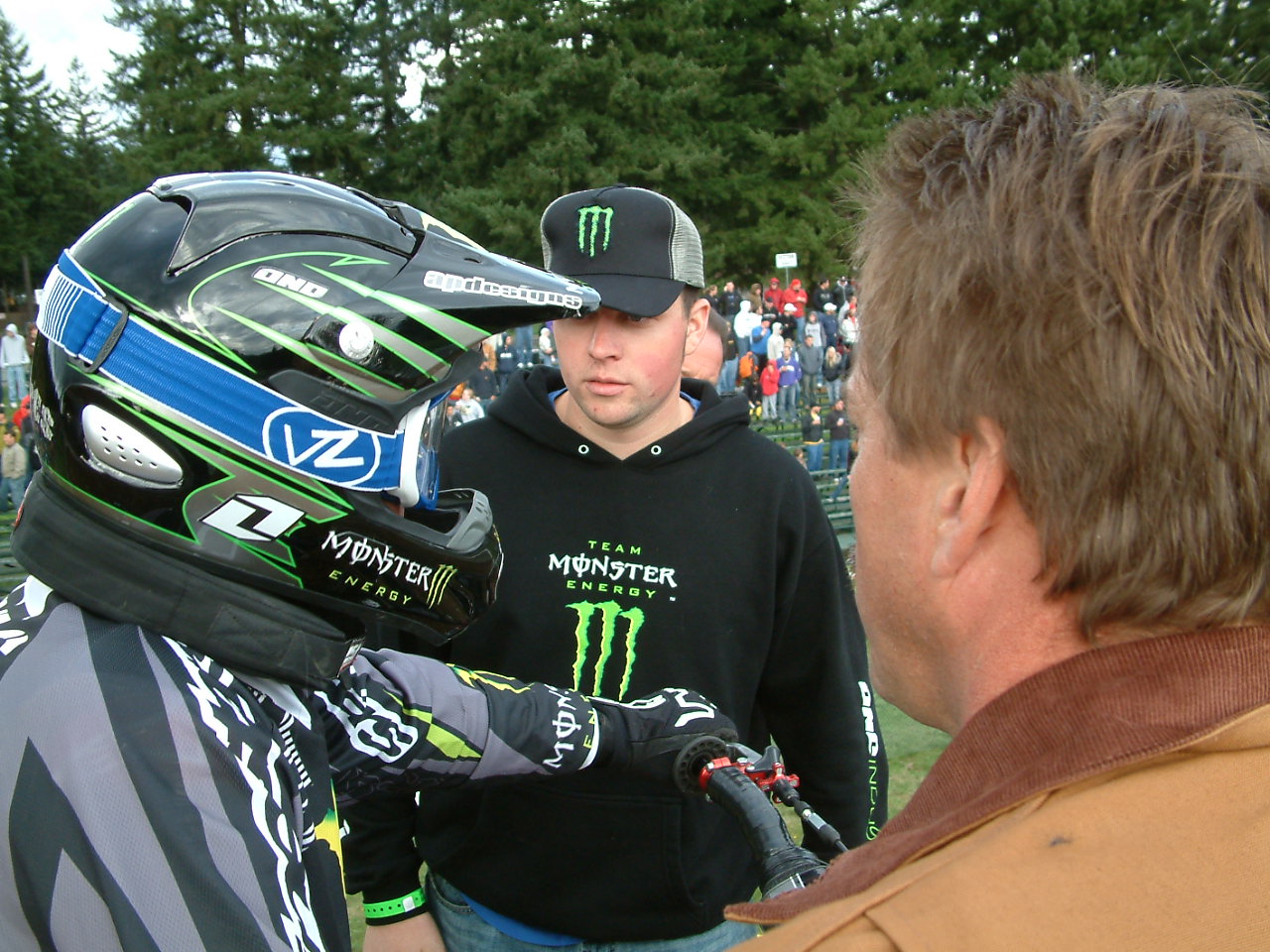 Ryan Capes, Joe Martin and Greg Capes talk things over on the landing ramp.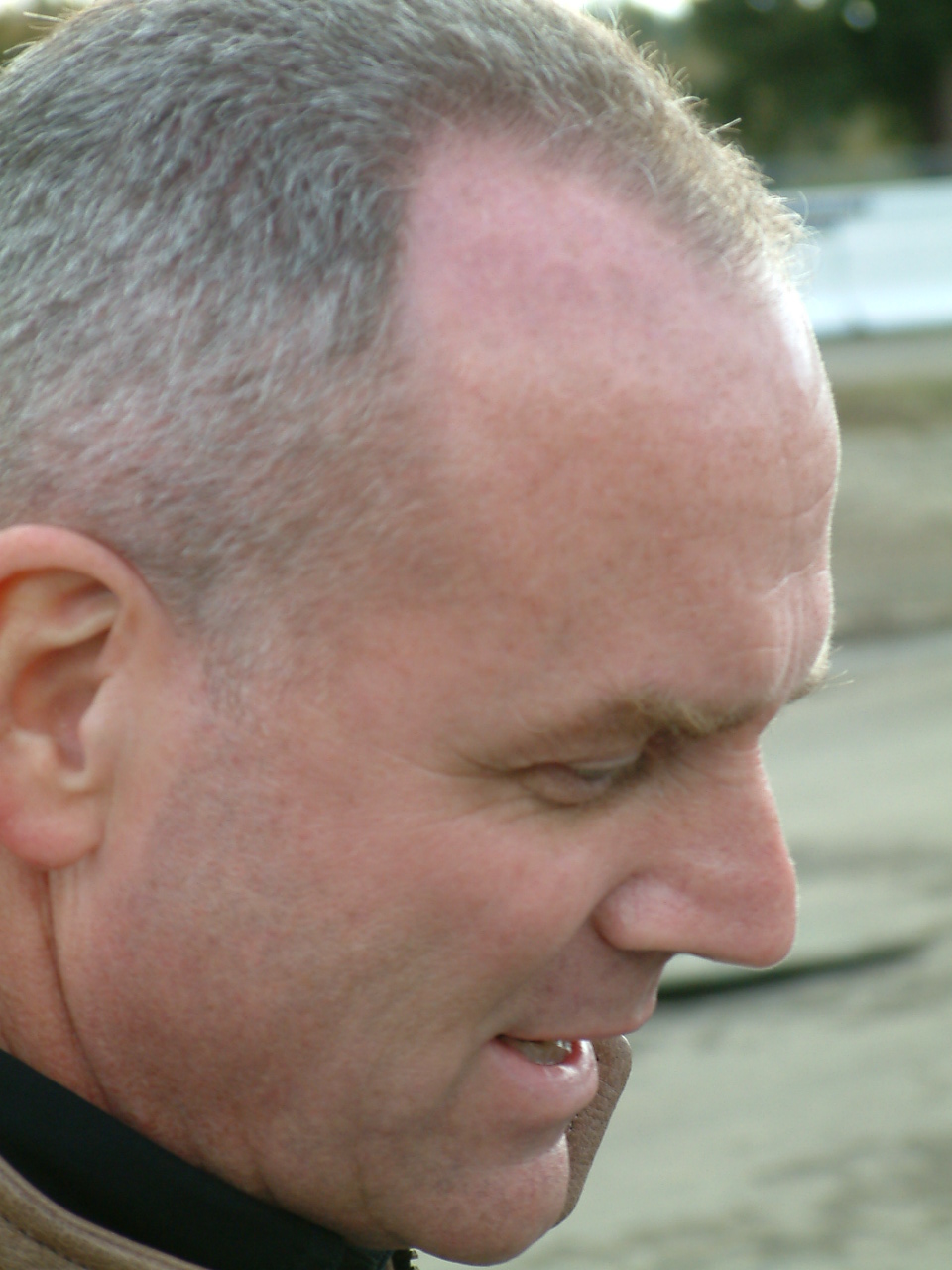 Capes' speed box didn't come through at the rental company, so he was left without a speedometer. Joe Byars just happened to show up with a radar gun. He gave Capes biofeedback to let him know if he was fast or slow. Capes stretched the ramp gap 10 feet at a time and stayed on two wheels. It's vital to know how fast you're going when you hit a distance ramp. It was a great thing that Byars was able to come through like that. Capes' life depended on knowing how fast he was traveling.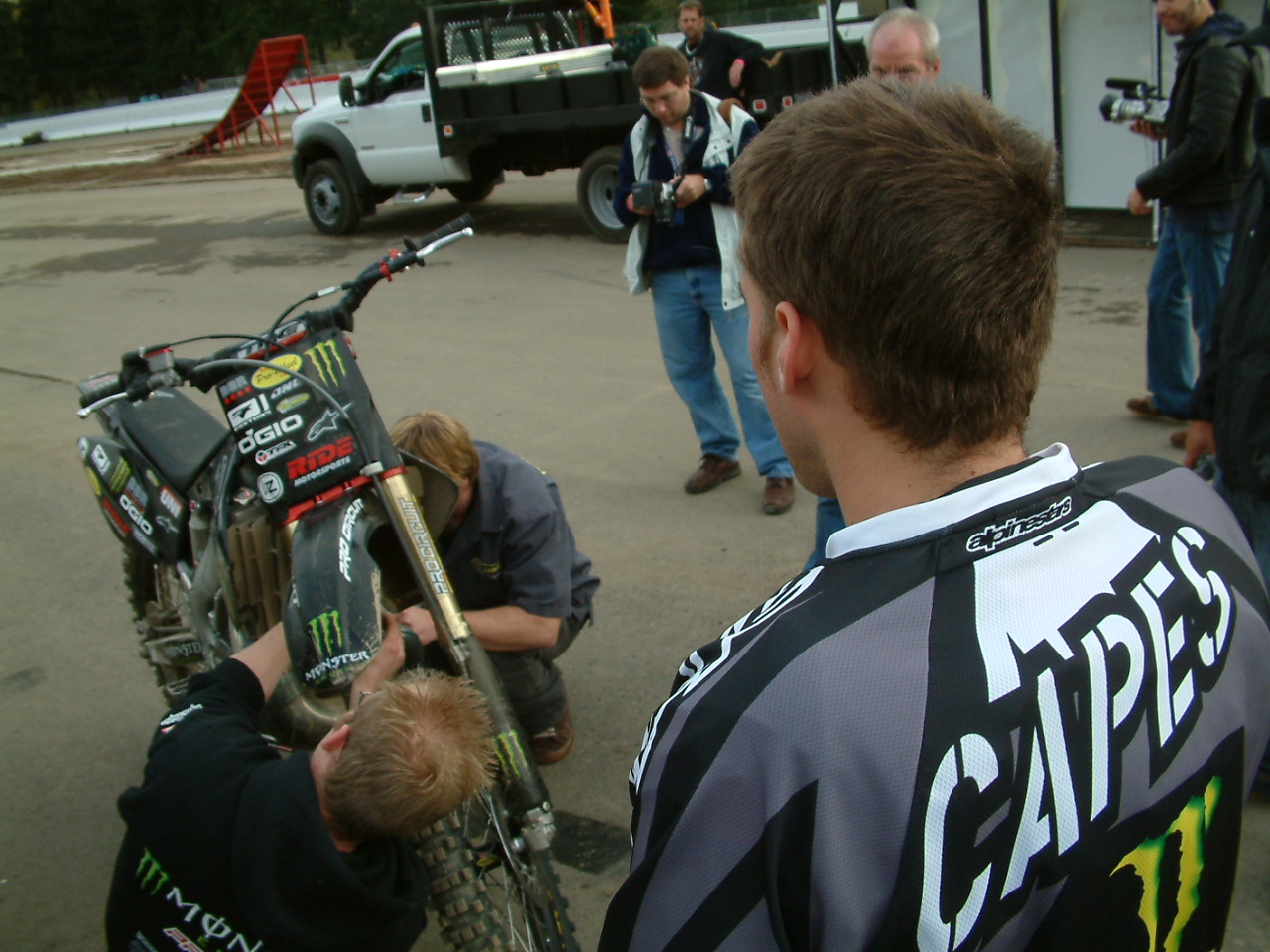 Capes and his mechanic Zach made a smart move and pulled the front fender off before the final assault so they could check the bottom triple clamp. If the front end of the motorcycle is going to break off upon landing, it's probably going to start with the bottom triple clamp cracking right through the front fender bolt holes. If the bolts are too long and bottom out in the holes, it will crack the bottom triple clamp. When you need it the most, the bottom clamp catastrophically fails, then the top clamp snaps off, and then it's a faceplant on the front tire. This is an example of learning from another rider's crash. Seth Enslow paid that price with blood and Capes learned from it.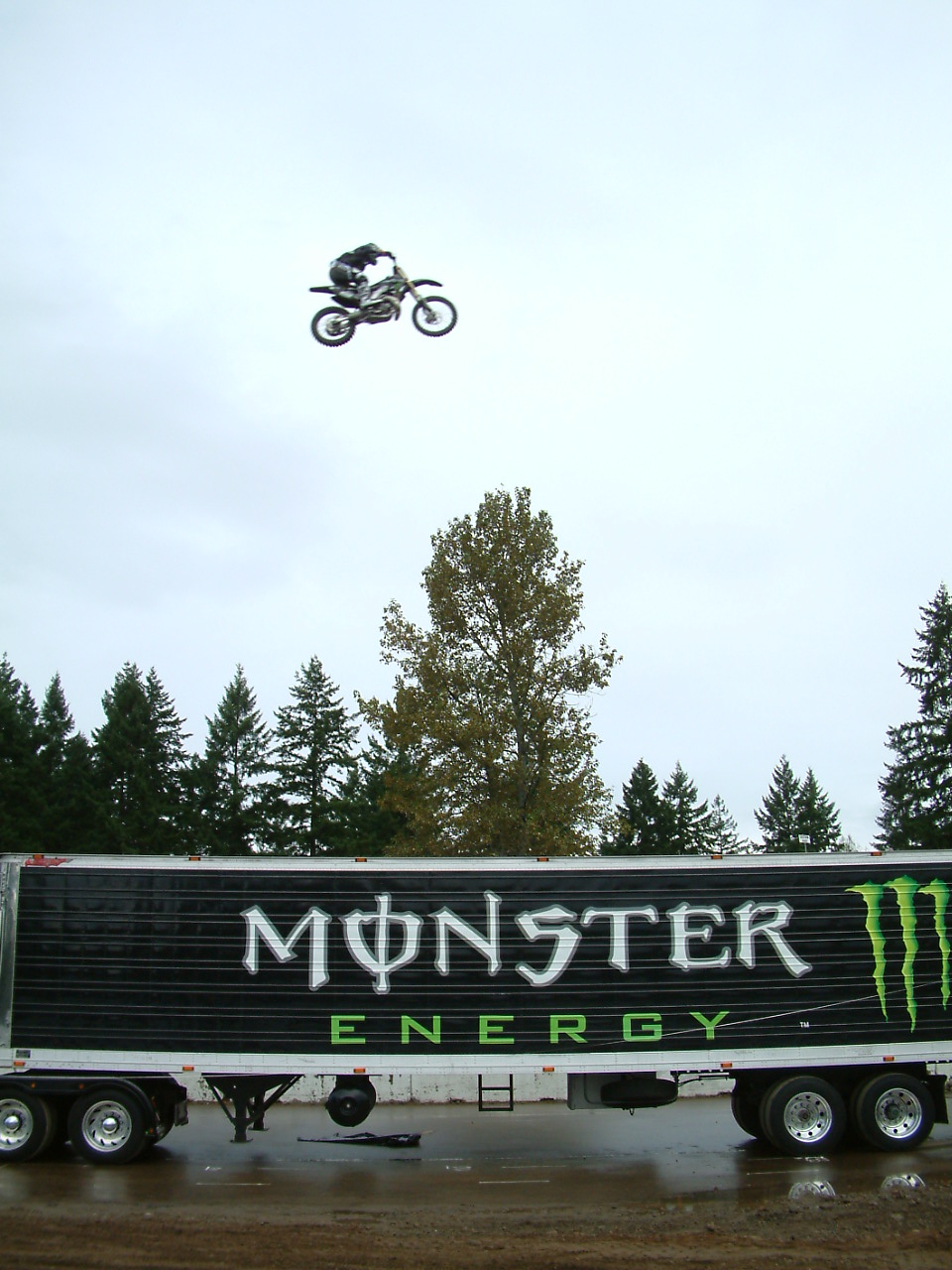 An early jump, long before the world record attempt, when the ramp gap was only ridiculous.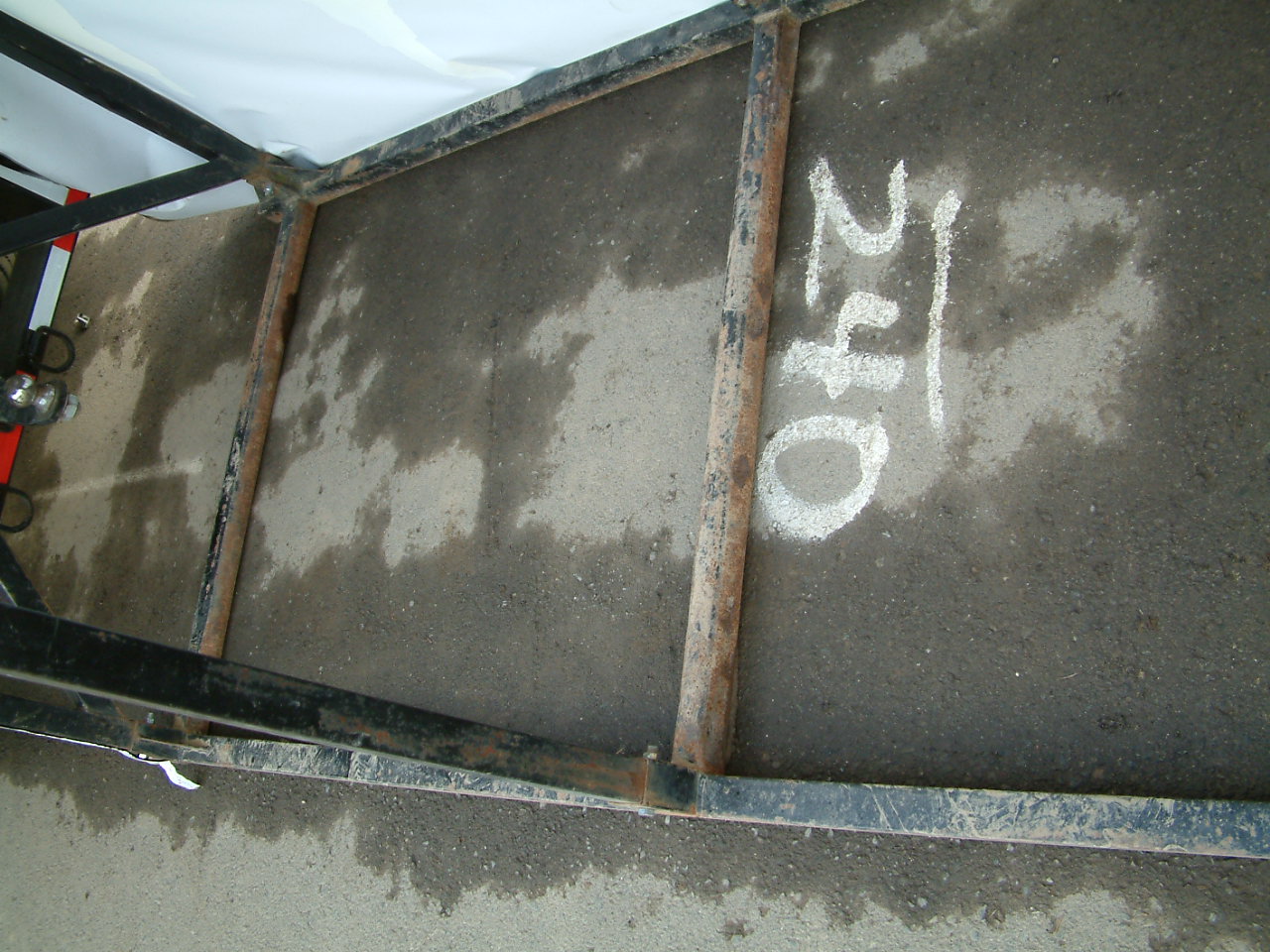 The ramp gap on the world record jump was 235 feet.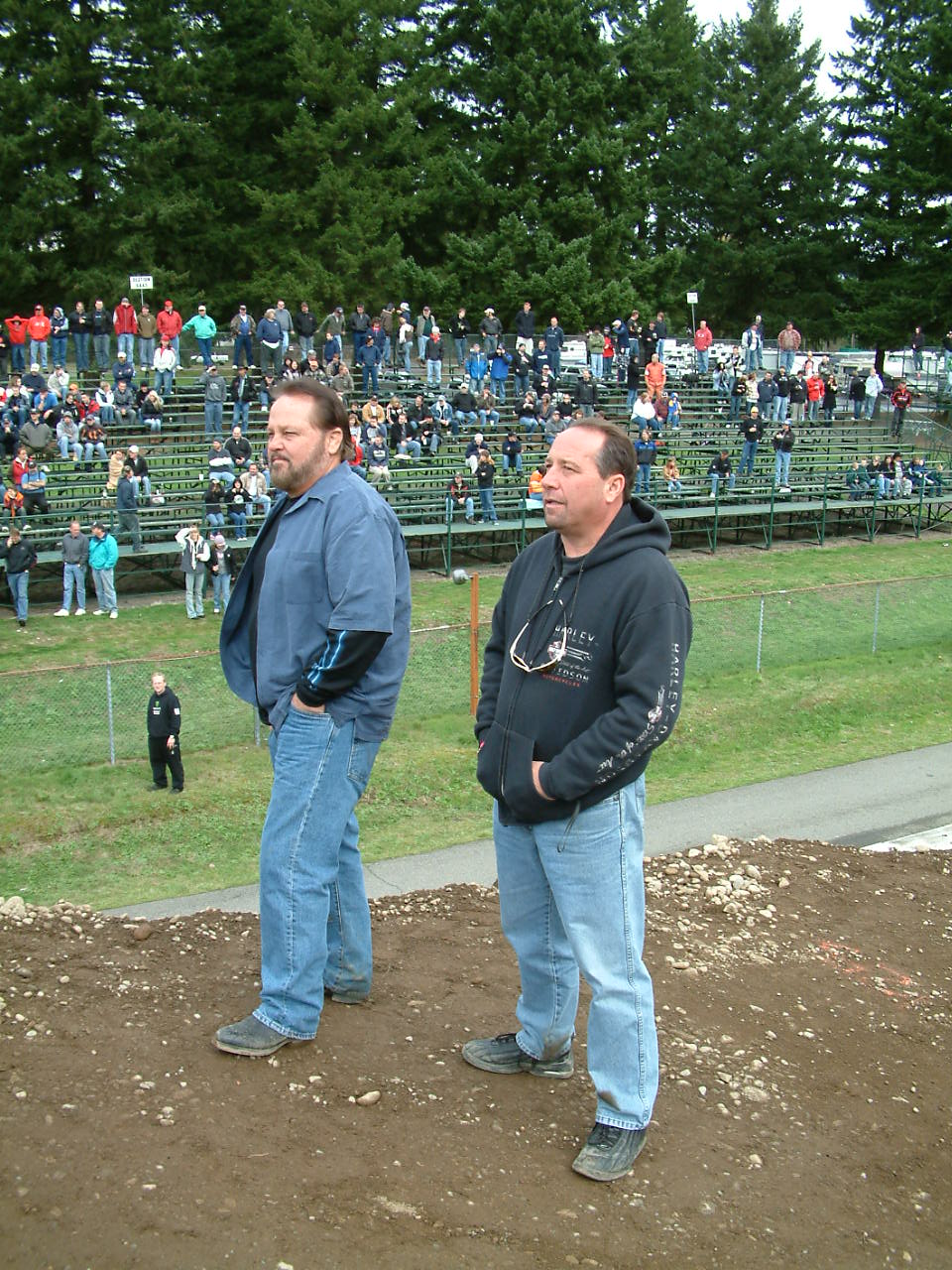 Johnny Airtime measured the jump with the help of these two guys: Robert "Spanky" Spangler and Bill Rundle. All three were on the landing ramp when Capes went for the gold.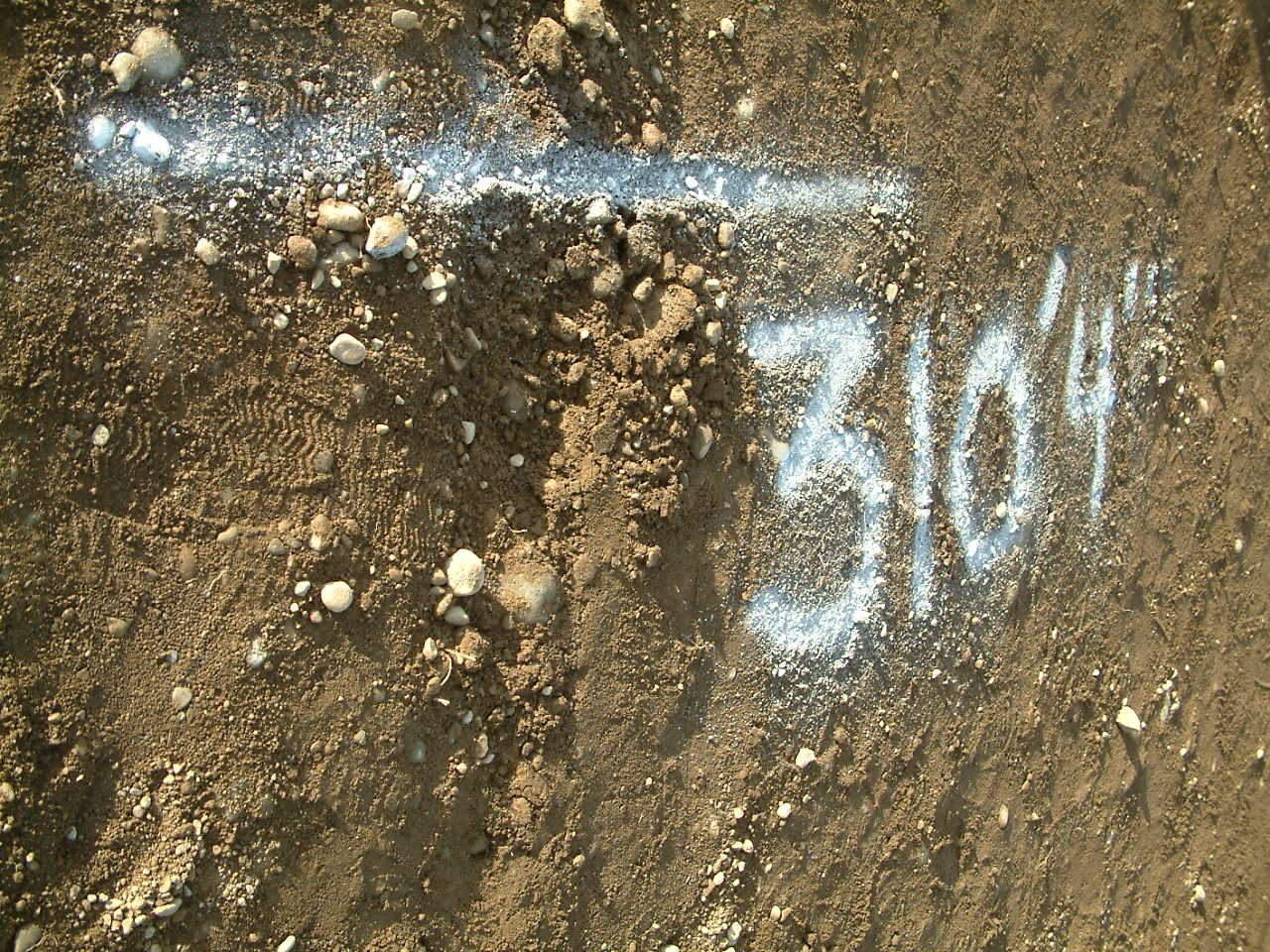 There it is - the longest motorcycle jump in history. Ryan Capes became the first man in human history to surpass the much-sought-after 300 foot mark with a total jump distance of 310 feet, 4 inches on October 29, 2005.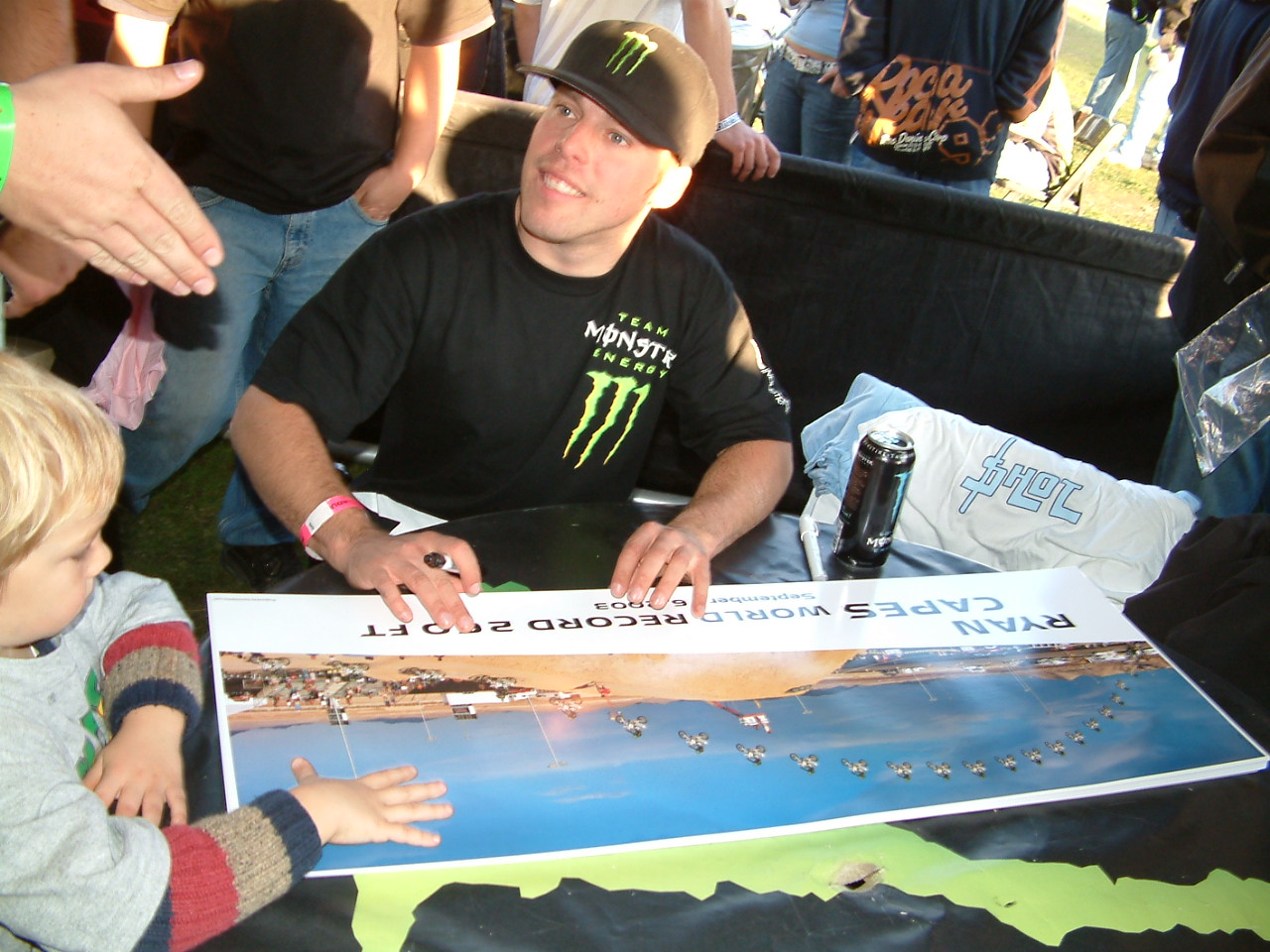 Now it's all autographs and kissing babies for Ryan Capes. Davin Ryan Mattimoe lays claim to one of Capes' posters while his parents, Garrett and Drey, talk with Ryan. Davin waited through a long line of autograph seekers to claim his prize, but his patience was rewarded. He also took home a Ryan Capes-autographed Pacific Raceways t-shirt!
After the crowd went home, crew, family and friends hung out and had a good time. Capes sits on his bike and soaks up the whole scene, enjoying his new world record and the knowledge that he's the only man alive in the 300 foot club. Capes' grandfather Rolly is the gentleman in the white jacket.