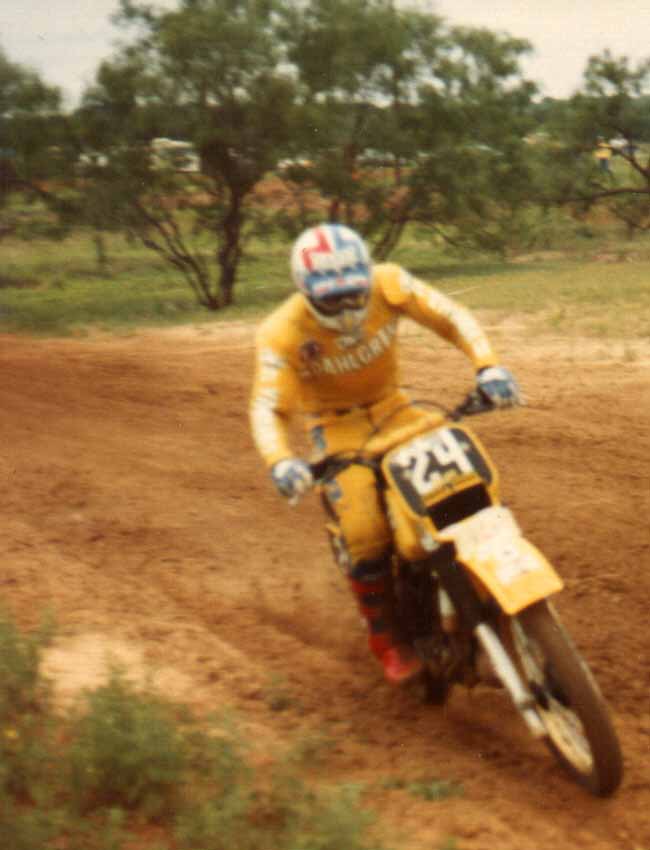 Johnny Airtime in 1982 on the Dahlgren Yamaha YZ250 at Spring Valley Raceway, where he earned the name "Mr. Airtime" after lapping the entire field with all classes combined.
Roger Wells was racing motocross in the Abilene, Texas area while he was in the Air Force, stationed at Dyess Air Force Base. One day in the spring of 1982, while he was hanging around a motorcycle shop in Abilene, a Texas State Champion enduro rider was talking about an annual race called the West Texas Grand Prix. He said it was two hours plus two laps around a 6 1/2 mile course, which included a two mile motocross track.
The enduro rider said, "The motocrossers always get smoked at that race. They just can't hang. They don't have the endurance."
Roger replied, "What motocrossers have been showing up at that race? Motocrossers have the best endurance of all."
He decided to go to the West Texas Grand Prix to sell his Yamaha YZ250. When he got to Spring Valley Raceway, he was overcome by the beauty of the track. The green grass of the infield looked like heaven on Earth, and the perfectly groomed and watered motocross track in the front section looked like a wonderful dark brown ribbon dropped on the Kawasaki green grass. He could not resist. He had to drive home and get his riding gear. He was with a friend of his who rode 125s, and they were both determined to race. They drove the van home at 90 miles per hour and got both sets of riding gear. They agreed in advance that if one of them broke during the race, he would pit for the other.
They got to the track just in time for the start. The starter held a gun in the air and fired it to signal the start of the race. The riders ran to their bikes and took off from the starting line. All classes were combined, from novice to pro and from 80cc to 500cc. Roger left the line in about 8th place.
He quickly dispatched the top 7 in about three turns, passing his friend for the lead. He was really on that day. He pulled a huge lead. Meanwhile, his buddy seized the engine of his Suzuki RM125 and pushed his bike to the pits. He signaled Roger from trackside that he had the gas can and could pit for him.
As Roger got into lapped traffic, he came up behind three riders who were side by side, rolling a steep jump in 2nd gear. He saw that he could time the pass. He held the throttle wide open in 4th gear and jumped over their heads as they rolled the downside, landing about 100 feet later on flat ground.
When he came back around on the next lap, an old man stood in the middle of the racetrack, waving him on, yelling "Do it again! Do it again!"
Just past him, there were about 60 people standing right in the middle of the racetrack, waving and yelling for him to do it again. There was another lapper right in front of him. He held it wide open in 4th again and jumped that rider as well. And so it went for the rest of the race. Every time lappers were in position for the overhead pass, the crowd egged him on and he flew over them to make the pass.
He won the 250 class and the overall, lapping the 2nd place overall rider. The 2nd place overall rider was a 250 pro who lapped the 3rd place overall rider. It was Roger's best race of the year. He proved to everyone there that motocrossers have the endurance.
After that, people started calling him "Mister Airtime".
He was an Air Force "Airman of the Year" six months later, becoming well known on the base.
He decided to begin his long-awaited ramp to ramp jumping career.
He applied through official channels to be permitted to race motocross during his off-duty time. The Air Force Judge Advocate General declined his request. He had been racing MX without permission for years and was the team manager of Dahlgren Yamaha. He knew that if they wouldn't officially let him race motocross, they certainly wouldn't let him jump ramp to ramp.
He had to come up with a name. Lots of people at Dyess Air Force Base knew who he was. He couldn't jump by his real name.
He went to the home of a friend of his named Steve Stensrud. They sat down and kicked names back and forth. Names like "Orbital Ozzy Osgood" were quickly discarded.
Wells remembered the "Mister Airtime" nickname he earned in racing.
He thought about the lingo of motocross - people who were known for something extreme or memorable, such as aggressiveness on the track, might have been referred to in passing as something like "Johnny Berserko". Somebody who always got good starts might have been referred to as "Johnny Holeshot". None of it ever stuck, it was just little-used lingo in motocross - Johnny this, Johnny that.
He wanted to use the Airtime name. As soon as he came up with "Johnny Airtime" he knew he had something.
As they continued thinking about names into the night, sitting at the kitchen table until a decision was made, he ate his friend out of house and home. "That guy can really eat," Stensrud said.
"Johnny Airtime" had a ring to it. It was hard to forget the name. It sounded cool to both of them.
He performed his first jump in June of 1984. He jumped one 18 wheeler lengthwise with Butch Laswell, who came from Las Vegas to join him. Butch took the name "Donnie Airtime".
Later, the Chief Master Sergeant who was the Wing Senior NCO called him at the office. "I hear you're jumping motorcycles."
"No, not me, I'm a motocrosser. Those jumpers are crazy. I wouldn't do that."
The wise old Chief said, "I hear you. If you get hurt, I'm going to court martial you for destruction of government property."
Johnny did more jumps but always left his helmet on for interviews. He hid his identity until he got out of the Air Force. Nobody knew - or so he thought.
There's an organization called the OSI, or the Office of Special Investigations. The OSI is the Air Force version of the FBI. They are suspicious of everyone and they know everything. They never smile.
As he was processing out of the Air Force, he was going to CBPO and to other offices around the base, finalizing the paperwork at each office. At one of his final stops, he was waiting in a chair, sitting next to a joking, happy OSI Chief who was retiring and outprocessing as well. This OSI man was never seen smiling in the four years of Roger's duty at Dyess, but there he was, smiling and joking with all the girls, completely out of character. This OSI man was happy to be retiring.
He leaned forward and read the name on Roger's uniform. "Sergeant Wells...Sergeant Wells...oh! You're the motorcycle jumper."
Roger replied, "Yes, I am."
He wanted to jump by his real name after he got out of the Air Force.
His friends and associates disagreed. They convinced him that he should stick with the name Johnny Airtime. And so he did.